Department of Energy Grant Backs Project Being Overseen By Sempra Subsidiary
Sunday, February 12, 2017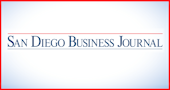 The U.S. Department of Energy has pledged up to $1.2 million in federal money to a wastewater demonstration project partly funded and overseen by a subsidiary of San Diego-based Sempra Energy.
The project involving Sempra subsidiary Southern California Gas Corp. will use water, heat and pressure to convert wastewater solids from a municipal treatment facility near Oakland into natural gas and liquid fuels.
"This new technology could have an enormous impact on energy and waste," Jeff Reed, SoCalGas' director of business strategy and advanced technology, said in a news release. He added that the hydrothermal process involved may have the potential to produce some 128 billion cubic feet of natural gas per year nationwide and save utilities $2.2 billion in waste disposal costs.
SoCalGas is expected to help oversee the project's design and its regulatory approval process, as well as assist in securing incentives for the initiative.
A consortium running the project is being led by the Water Environment & Reuse Foundation. Others involved are Genifuel Corp., Merrick & Co., Metro Vancouver, MicroBio Engineering and Tesoro Corp., as well as more than a dozen utilities. The consortium is required to pay at least half the project's cost.
SoCalGas operates in Los Angeles County. Parent company Sempra is a Fortune 500 energy services holding company.