MEDICINE: SEPARATION OF BUSINESS AND MEDICINE DOESN'T STOKE CONTENTION
Trade-Offs Work for Hospital-Affiliated Physician Group
Originally published February 9, 2017 at 3:13 p.m., updated February 9, 2017 at 3:13 p.m.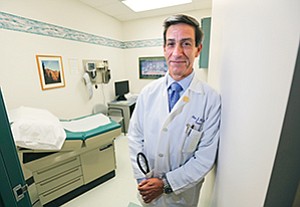 San Diego — There's an unofficial motto at San Diego's Sharp Rees-Stealy Medical Group: Patients first, group second, individual physicians third.
If this appears to suggest something has come between patients and their doctors, well, in a way it has. Whenever medically necessary, the group's members try to refer patients to a facility owned by Sharp HealthCare, the San Diego-based health system.
"We do not work for (Sharp), per se, but we are certainly joined at the hip," said the group's president, Dr. Alan Bier.
Such is the central trade-off of hospital-affiliated physician groups. In exchange for the freedom to focus on their patients' health — and not be distracted by day-to-day business considerations — doctors at groups like Rees-Stealy must give up a degree of autonomy.
The arrangement works "surprisingly well," said Bier, a San Diego cardiologist.
"We very rarely, if ever, have a physician choose to leave us to go out in the world of private practice," he said.
United in Need
Hospital affiliations have become an increasingly popular option for physician groups here and around the country as declining medical reimbursement rates raise incentives for doctors to consolidate.
State law forbids hospitals and other corporations from practicing medicine. But by using what is called a foundation model, doctors and hospitals are able to more or less align their financial interests.
Under such models, doctors and the hospital company — Sharp, in this example — negotiate contracts together and share income. While doctors provide medical services, Sharp puts up the facilities and staff, and otherwise covers the partnerships' business expenses.
Rees-Stealy, which has existed since 1972, affiliated with Sharp in 1985. It has 520 physicians — the equivalent of 440 full-time doctors — working in various specialties, plus 91 nurse practitioners and physician assistants.
Maintaining Independence
Officially, Sharp has no say in how the medical group is run. That is left to Rees-Stealy's nine-member, elected board of directors, Bier and the group's chief medical officer, Dr. Steven Green.
Stacey Hrountas, a former Sharp executive now serving as CEO of Sharp Rees-Stealy Medical Centers, has constant input but no final say on matters at the medical group, Bier said.
Doctors who are part of the group still speak up from time to time, he said, adding "they don't want to abdicate completely." For the most part, when they raise their voices it's to request more supplies, staff or physical space, he said.
Mostly Happy
Meetings with physicians are scheduled regularly to ensure strong communication between physician members and the health system with four acute-care and three specialty hospitals.
"Obviously not everyone's happy 100 percent of the time," Bier said. But with the group thriving and delivering good quality medicine in a positive environment, he said, the physicians are generally pleased.
"It does allow a lot more freedom to do the kinds of things you choose to do" as a physician, Bier said.
Bier's position as president carries special leadership duties he admits to being somewhat ambivalent about, even as he takes pride in "keeping the business end of this group flowing successfully" in the right direction.
"I think we're just in a good place," he said. "It's a good place to be, and it's a style of practice that suits me very well."