Plasso Builds Support For Booming SaaS Economy
Originally published February 9, 2017 at 2:34 p.m., updated February 9, 2017 at 2:34 p.m.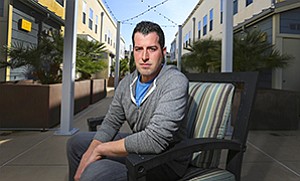 North County Startups, It's Time to Work on Community
We're told that North County has a booming startup scene, but you'd be hard-pressed to find it, especially in Carlsbad.
Drew Wilson, founder and CEO of tech startup Plasso Inc., plans to change that by founding a regular (and completely free) meetup group for tech entrepreneurs in North County.
As a tech founder working in Carlsbad, Wilson said he was surprised to learn that Carlsbad was home to a large concentration of startup companies.
A 2015 report from startup-focused nonprofit CONNECT found that 63 startups were founded in Carlsbad, while 54 were founded in downtown San Diego and 52 in Sorrento Valley.
"I was like, 'Wait, what? Where are these people? I only know like three other founders,'" Wilson said.
So Wilson launched Shape, a group that meets on the last Thursday of every month, to bring together North County tech founders. The event is hosted by Common Grounds coworking space in Carlsbad.
At Shape's first event, Ashok Kamal, executive director of Tech Coast Angels, was the main event. For February, Wilson has startup advocate and author Brant Cooper lined up to speak. Wilson is also putting together panels of entrepreneurs to discuss common pitfalls of starting up.
"That's the best way to build a community where people will actually work together," Wilson said.
Wilson believes that North County — particularly its small beach towns — is a far more desirable region to build a startup hub than downtown San Diego. He said Leucadia is appealing due to its abundant office space, walkable neighborhoods, and the lifestyle of the community.
San Diego — Software-as-a-service is a phrase you're probably tired of hearing, along with its ubiquitous acronym SaaS.
But it seems the popular subscription-based model is here to stay. Thousands of businesses are drawn by the siren call of recurring revenue, and the top dogs of the subscription economy (SalesForce, LinkedIn, Netflix Inc., etc.) are performing quite well.
In fact, subscription businesses grew revenue nine times faster than S&P 500 companies and four times faster than U.S retail sales over the past four years, according to market research.
Now, 33-year-old Carlsbad entrepreneur Drew Wilson has built a SaaS for SaaS, and the startup has gained popularity unusually fast.
Infrastructure Demands
Wilson's startup, Plasso Inc., makes a software tool that can help any company — large or small — create a subscription-based business model. All the business owner has to do is point and click.
This is a boon for companies that want to create recurring revenue, but lack the time or resources to build a subscription-based e-commerce model from scratch.
"The cost of starting a subscription-based model is super high, because there's a lot of infrastructure you have to build," Wilson said. "To do this yourself is cost-prohibitive, especially for a startup company."
Plasso's tool could be useful to a wide swath of companies, including software startups, subscription box startups, or even gyms or coworking spaces.
In fact, Carlsbad's coworking group Common Grounds uses Plasso's model to process its monthly payments from tenants.
Alex Policastro, the senior interactive designer for Common Grounds, said he was looking for a tool that would easily integrate with their existing website.
"When we started (Common Grounds) there were plans for one location, and now there are plans for multiple locations," Policastro said. The fact that Plasso could easily expand the model to several locations/websites was part of the appeal.
Plasso's software tool can plug into any business' website, Wilson said. Depending on what the merchant wants, it can be as easy as posting a customized link, inserting a line of code, or installing a plug-in for WordPress users.
"The same way Shopify made it easy for anyone to create a one-off sale business, we're making it easy for anyone to create a recurring revenue-based business," Wilson said.
Users can pick from a variety of products, including both a standard e-commerce model and a recurring revenue model. Plasso's customers have three pricing options: pay $0 per month and a 4 percent transaction fee per purchas
e on a basic plan, $41 per month and a 1 percent transaction fee for premium, or $169 per month and 0.5 percent transaction fee for the platinum plan.
8,000 Clients
Wilson founded Plasso in 2014, and ran the business as a one-man show for the past two years. The service amassed 8,000 clients without any sales or marketing, Wilson said, simply through word of mouth. Wilson actually took the entire year of 2015 off from Plasso to travel the country with his family. Plasso chugged away on its own, adding new merchants and filling the coffers with cash in a perfect example of why entrepreneurs like recurring revenue.
When Wilson returned from his trip in 2016, he decided Plasso had great traction and was ready for a bigger push.
"Raising money for a B2B SaaS company is not super easy, unless you have significant traction," Wilson said. "Plasso was selling itself, so I was able to raise money in about five months."
Wilson raised a total of $1.2 million from angel investors, and has grown his team to nine people (including a proper sales team) over the past six weeks.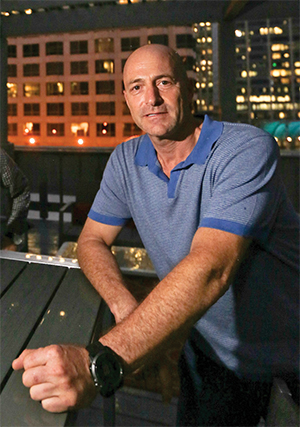 New Accelerator Plans to Harness Power Of Tech Tools to Advance City
The co-founder of new coworking space Downtown Works is launching a startup accelerator to drive urban modernization in San Diego.
The accelerator is called SCALE San Diego, which stands for "Smart Cities Accelerator, Labs and Environment."
Candace Vanderbilt, the community manager at Downtown Works, said the organization's goal is to "tackle some of the biggest challenges and opportunities in our city and community using technology, open data, sensor platforms, and artificial intelligence."
SCALE is co-founded by Wolf Bielas, co-founder of Downtown Works and managing partner of Wolfpack Ventures.
Bielas is teaming up with SCALE's other co-founder, Daniel Obodovski, a longtime executive, advisor, and investor in technology companies. Obodovski is co-founder and managing partner of DND Ventures, a San Francisco investment firm that focuses on internet-of-things and machine-to-machine investments. Before DND, Obodovski worked as an executive at Qualcomm Inc. and Motorola Inc., and was an advisor to Samsung.
Accelerators, although loosely defined, generally invest a small amount of capital in companies that make up each cohort. The organizations normally educate and mentor their startups for a short period of time, culminating in a demo day or pitch event to investors.
Downtown Works did not indicate whether SCALE San Diego will make equity investments.
To the chagrin of many local entrepreneurs, only one startup accelerator in San Diego actually makes equity investments — Canopy San Diego, a cannabis-focused accelerator run by former Tech Coast Angels executive Jack Scatizzi.