Index Forecasts 10.3% Home Price Increase in San Diego for 12 Month Period
Tuesday, February 7, 2017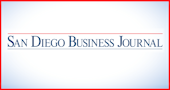 San Diego home prices posted moderate gains in December and are poised to rise substantially in 2017, according to the latest CoreLogic Home Price Index.
Local home prices rose by 0.3 percent that month, ending 2017 with a 6 percent year-over-year increase, the Irvine-based real estate information company reported Feb. 7.
By comparison, the Los Angeles home market inched up 0.1 percent in December and San Francisco's declined by .01. Percent. Year over year, their respective gains were 6.8 percent and 4 percent.
CoreLogic deemed San Diego's home market "normal," same as in L.A. and San Francisco, unlike the "overvalued" label it applied to the Denver, Houston, Miami and Washington, D.C., markets.
The company forecast a 10.3 percent home price increase in San Diego between December 2016 and December 2017. It expects the San Francisco market to jump 12 percent during the same period, and the L.A. market to rise 7.1 percent.