Callaway Golf Posts Q4 Net Income of $123.3 Million
Monday, February 6, 2017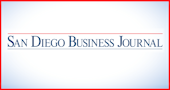 Callaway Golf Co. reported fourth-quarter net income of $123.3 million on net sales of $163.7 million. The business reported its quarterly financial results on Feb. 2.
The quarter, which ended Dec. 31, featured an unusual occurrence. Callaway (NYSE: ELY) had net loss of $17 million in the recently ended quarter, but was able to report an income tax benefit of $137.2 million, which swung the company over into profitability. To put it more technically, the company said it benefited from a non-cash reversal of a deferred tax valuation allowance.
In addition, the company took a gain on the sale of a portion of its holdings in the TopGolf entertainment venue, said Robert Julian, the company's chief financial officer.
In the fourth quarter of 2015, Callaway reported a net loss of $30.5 million on net sales of $153.3 million.
The Carlsbad company makes golf clubs, balls and apparel. It recently bought Utah-based Ogio International Inc., which makes bags for golf as well as other sports.
For the year, Callaway reported net income of $189.9 million on net sales of $871.2 million. In 2015, the company reported net income of $14.6 million on net sales of $843.8 million.