TECH: ITS GEOPHYSICAL IMAGES USED IN ENERGY EXPLORATION
GroundMetrics Eyes the Underground Market
Originally published February 2, 2017 at 2:16 p.m., updated February 2, 2017 at 2:16 p.m.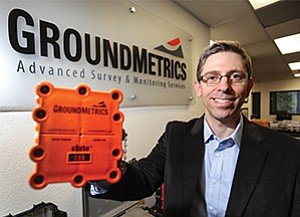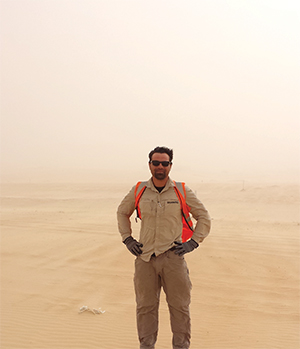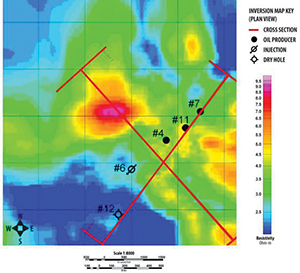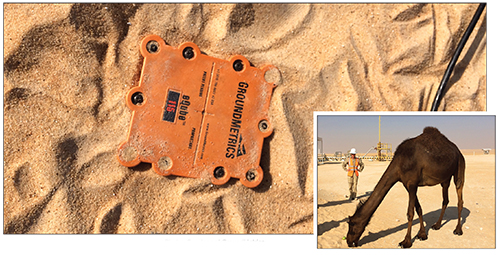 San Diego — Finding anything under the Earth's surface is a tricky and often costly endeavor; doing it amid dust storms and camels in the Saudi Arabian desert can be even more trying. That is where San Diego startup GroundMetrics Inc. set out to prove to the world's largest oil company that its technology works.
GroundMetrics claims to have developed a sensor system that provides a more complete picture of what lies beneath — and Saudi Aramco, the Saudi Arabian oil giant, wanted to see the technology in action.
GroundMetrics' electromagnetic sensor system gathers data about underground deposits, which the company then analyzes and uses to produce geophysical images of the area surveyed. Those images are how the firm makes money; they are sold to oil companies and other clients.
It was a chance meeting at a geophysics conference that led GroundMetrics to its first contract and its impetus for breaking off from sister company Quasar Federal Systems in 2010, said CEO George Eiskamp.
At the convention, he spoke with a team from Saudi Aramco who seemed intrigued by the possibility that the sensor system could increase oil field output. Still, they were unsure it would be a good fit.
"Saudi Aramco considers a $1 billion company a small company," they told Eiskamp. It wasn't clear if the San Diego tech firm and the Middle East-based oil giant would do business.
But the company eventually came around and offered Eiskamp's team a contract to visit the Middle East and test their technology in the arid climate.
Ruggedizing a Prototype
GroundMetrics' equipment for surveying an area includes its eCube sensor and a data recorder, which is attached to the sensor by cables. The recorder wirelessly transmits the data it collects to computers, often housed in a nearby trailer, which analyze the data in real time.
The firm raised $1.2 million from the Tech Coast Angels and used the funds to "ruggedize" its prototype, using sturdier materials and encasing it in plastic in anticipation of testing it in a desert environment. (Preliminary testing grounds had included land near the Sorrento Valley office the company was renting at the time.)
Eiskamp, while fluent in the language of hard science, didn't study it formally. He earned a master's degree from the University of California, San Diego with a focus on international business.
However, following a stint with consultancy Bainbridge, Eiskamp ended up at two sensor-related startups in succession.
That's what led to QFS's interest in hiring him to commercialize technologies the company had created for the U.S. Department of Defense.
Test Time
It was the chance to score a contract with Saudi Aramco that prompted GroundMetrics to step out on its own.
"That was the job that pulled GroundMetrics out of QFS," Eiskamp said.
Like doctors using MRIs, the oil executives wanted to see what was around the wells they had already drilled.
It was time to turn laboratory-tested technology into a system that could work in the harshest of conditions.
Perhaps unbeknownst to those unfamiliar with the energy industry, fuel extraction isn't as simple as finding the stuff and removing it until the source is emptied.
"At best, they leave half the oil in the ground," Eiskamp said of petroleum exploration and production companies. Even getting to that 50 percent mark requires that companies pursue techniques in addition to the primary removal process, such as displacing the oil with water or carbon dioxide that is pumped into the ground.
GroundMetrics' system, Eiskamp said, can help pinpoint the best areas in which to use such "enhanced" recovery activities — or to explore in the first place.
Setting a Funding Record
He wasn't sure that would be an easy sell to the locally based angel investors to which GroundMetrics turned for financing ahead of the Saudi Aramco job: San Diego is far from an oil town.
However, the "magnitude of the market opportunity" is what convinced investors to give it a hard look, he said.
The first round of funding the company closed set records for the largest raise out of the San Diego chapter of Tech Coast Angels and for the chapter's fastest raise from term sheet to close.
"Even though they didn't have a real background in energy, they were interested enough that they pulled people from their network to vet us and that gave them the comfort they needed," Eiskamp said. "They were willing to take time and give a little extra effort to get comfortable with the industry and the technology."
Including that first round, GroundMetrics has raised a total of nearly $10 million from angel investors.
"That one contract led to three to four others in subsequent years," he said. "From a fundraising perspective, that gave us a lot of credibility, especially with existing investors."
Exploring Partnerships, Licensing
The firm, which also has offices in the Bay Area, Texas and Canada, has established a virtuous circle of sorts — its contracts bring in revenue, but also a chance to improve the sensor system in the field, which improves the images that are produced.
At the moment, GroundMetrics is exploring strategic partnerships and licensing opportunities with several firms, Eiskamp said.
That's a deviation from the path he laid out in late 2012 at San Diego Venture Group's PitchFest event.
There, he said he expected the firm to have more than $50 million in revenue by 2017 — and to eventually be acquired in lucrative fashion by an oil field services or geophysics company. A competitor, he told the crowd, had recently been acquired for $275 million.
But falling oil prices in recent years have sent the company along a different route.
Amy Vavrunek, with Tech Coast Angels, said she doubled down on her GroundMetrics investment after oil prices fell, rather than retreating.
"One of the things I've seen through my lifetime is while oil and gas pricing goes up and down, it never goes away," she said. "The oil prices went down shortly after I invested…George (Eiskamp) found the positive in that when things were going well with oil and gas, no one had time to make appointments to try and improve the process. When the downturn came, now people have time to look at how to save money."
Volatile Market
Eiskamp said he can foresee a future in which GroundMetrics' technology is licensed to other entities, leaving the firm to focus on innovation. Other potential avenues include joint ventures and spinoffs. Already the company is exploring other uses for its technology, such as working with the U.S. Department of Energy to monitor carbon dioxide that has been stored underground.
"I think we can be a technology company that does enough services to allow us to innovate rapidly," he said. "We have 13 patents in progress in 15 jurisdictions."
In the meantime, the volatility of the energy industry means GroundMetrics doesn't have the advantage of long lead times when it comes to getting their technology into companies' hands.
"We know when it goes up high again, we'll have to sprint to take advantage," Eiskamp said.
GROUNDMETRICS INC.
CEO: George Eiskamp
Headquarters: Kearny Mesa
No. of employees: Fewer than 50
Founded: 2010
Revenue: Under $10 million in 2016