TECH: UNIVERSITY'S NEW INDOOR PROVING GROUND MAY BE CATALYST FOR SECTOR
Career Paths and Flight Paths Can Cross Paths at Drone Facility
Originally published February 2, 2017 at 2:57 p.m., updated February 2, 2017 at 2:57 p.m.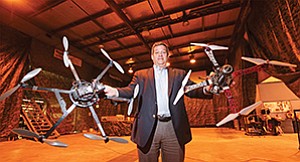 San Diego — A space billed as San Diego's first indoor drone testing facility opened at Coleman University on Kearny Mesa Jan. 26 with an unconventional snip of a ribbon.
Called the "Hornet's Nest," the facility is located in a 1980s-vintage industrial building behind the university on Balboa Avenue, a short distance from the old General Dynamics missile plant and Montgomery Field.
University leaders and volunteers from the Coleman-affiliated organization called ENVI hung a ribbon vertically in a roll-up door and powered up a small quadcopter. With a whine and a zip-zip, the copter snipped the ribbon with a touch of a propeller.
In the Works
ENVI — which stands for Electric Networked Vehicle Institute — has yet to write a business plan and set a schedule of fees for using the space. Already a San Diego business called Qelzal has used the Hornet's Nest to test its sensor technology. By one estimate, there are about 200 drone-related companies in San Diego.
Volunteers cleaned out the 2,500- square-foot main room with a 22-foot ceiling, put tarps on the walls to protect drones from collision, replaced the building's electrical system since its industrial copper wiring had been sold off, and installed new lighting. Yet to come is turf for the floor to cushion hard landings.
The room previously served as storage space for Coleman, and was full of old furniture, dividers and obsolete televisions.
Submarine Friendly
The building has an interesting history. It is said to be the development site of some advanced Defense Department weapons projects pursued by a predecessor to Maxwell Technologies (Nasdaq: MXWL) during the 1980s. One part of the building is a concrete tank more than 10 feet deep. The tank could be a good space for testing robotic submarines, said Rod Weiss, Coleman's director of development.
Among those attending the opening of the Hornet's Nest was Tomas Sibaja, president of the Baja Aerospace Cluster, who said that drone companies located nearby in Mexico would likely take advantage of the new test center. Baja California is an important aerospace manufacturing hub in Mexico, he said, employing 30,000 people in 2015 and exporting $2 billion worth of product in 2014. The "new billionaires" may well be people who launch drone businesses, following the visionaries who got into personal computers and websites, Sibaja said.
The University of California, San Diego is reportedly at work on a drone testing facility of its own.
With the many restrictions on San Diego airspace, it is "very difficult" for pilots to fly their drones outdoors, said Rob Gubala, an ENVI volunteer. Indeed, the drone that cut the ribbon had to stay within the confines of the building because the airport is nearby, said Jim Burns, who helps run ENVI when he's not at his day job. Burns is vice president and chief science officer for electric vehicle developer TransPower in Poway.
Student Projects
Weiss said ENVI provides hands-on projects for Coleman students. Students previously converted a small military vehicle to electric power and built a miniature submarine. They are now in the early stages of building an unmanned ground vehicle.
Weiss described ENVI as a spot where volunteer engineers and non-engineer technologists can mix.
"We're empty space and a lot of good advice and a little power electronics," Burns said.