For Aisle Planner, Wedding Planning And Technology Make a Perfect Couple
Originally published February 2, 2017 at 2:59 p.m., updated February 2, 2017 at 2:59 p.m.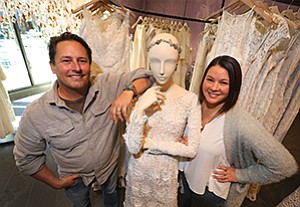 San Diego — Fintech has officially earned a place in the business lexicon, alongside biotech and bluetech (as we speak, beertech and weedtech are elbowing their way in).
Now Aisle Planner Inc., a small startup in Encinitas, has introduced us to a new pocket industry: wedtech.
Wedtech is a fairly new niche for technology startups solving the woes of the wedding industry. As six-figure weddings become the norm in America, the industry monetizing "I do" is pulling in $60 billion in collective revenue per year, according to market research. The New York Times calls the growing sector "the wedding-industrial complex."
Something Old
But the multibillion-dollar industry is still cottagelike at its core, with wedding planners in particular still operating with three-ring binders and scrapbooks.
"As big as it is, the industry is very antiquated when it comes to available technologies," said Rob Farrow, co-founder and CEO of Aisle Planner.
Aisle Planner is led by couple Rob and Christina Farrow, who founded the venture together following Christina's career owning a luxury wedding planning business in Hawaii.
"I would do 15 to 25 weddings per month, requiring 15 to 25 beautifully organized binders every month," Christina said, laughing.
Rob, who recently led a tech startup in Silicon Valley, said he knew there was a better way to manage the business with modern project management tools such as Basecamp or Microsoft's Yammer. The difficulty was getting Christina's wedding clients on board with the tools.
"These are good if you're technically inclined or you have a technical baseline, but as a consumer, the learning curve is really steep," Rob said. "Good luck asking a client to upload a file to Basecamp when they've never used it."
Something New
The duo decided to found Aisle Planner to be a user-friendly tool for wedding and event planners to organize projects and communicate with clients. The app includes a slew of features, including a design studio where the client and planner can upload photos, and create color palettes and style guides. There's also a shared calendar to keep track of appointments such as cake tastings, site visits, and photography sessions. Planners can also manage a budget and keep notes on vendors, among other tools.
With Christina's nearly two decades of experience in the industry, Aisle Planner has tackled every feature wedding planners would find useful. The company, therefore, charges the wedding planners rather than the clients, earning money off a subscription model in which planners pay monthly dues ranging from $19.99 to $69.99+ for access to the online software.
Over 22,000 weddings have been planned through Aisle Planner in the last two years, with users from 54 countries. Rob said roughly $812 million in wedding transactions were done through the company's software last year.
"If we're able to tap into 10 percent of those revenue transactions, we're a $3 million to $5 million business in the middle of this year," Rob said.
The Farrows said Aisle Planner brought in $416,000 in revenue in 2016, growing 300 percent from the prior year.
Finding the Capital
The company, which got off its feet in 2014, hired Brett Hollman, a former senior engineer at Amazon Web Services, to put together a team of developers to create the software. The company now employs 10 people, and operates out of a renovated warehouse in Encinitas.
The bootstrapped company recently landed revenue-based financing from Seattle-based Lighter Capital, which means that Aisle Planner "sold" a share of future revenues to Lighter Capital rather than giving up shares of equity.
"The best startups in our portfolio develop a deep understanding of their customer, build a fantastic product, are very capital efficient and prudent with their financials, and have a great attitude," said Jacob Colker, chief marketing officer at Lighter Capital. "Aisle Planner hit all of these marks with flying colors."
Ad Platforms Team Up to Get More Mileage Out of Campaigns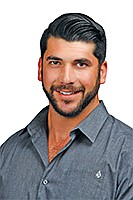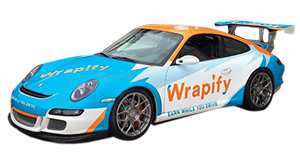 CBS Radio has partnered with local startup Wrapify in an advertising deal meant to boost both companies' sales.
In short, the media giant's 50-person sales team in Washington, D.C., will be selling Wrapify's platform to CBS' clients in the D.C. area.
Wrapify, which started out at tech incubator EvoNexus, pays people to wrap their cars in marketing messaging. The local startup uses proprietary technology to track vehicles in real-time for their clients, giving companies detailed insights on where and when their ads travel. Wrapify also developed a mobile app to make it easy for drivers to sign up.
The San Diego company launched its app in July 2015 with 1,000 motorists signed up to wrap their cars in three cities. Since then, Wrapify has raised $3 million in seed funding and expanded to 40,000 drivers in 29 cities.
For CBS, the partnership sweetens the deal for advertisers who pay for on-air ads in the D.C. area by offering up visual ad space, as well.
"This partnership will strengthen our marketing assets in the area by providing our clients with a way to reach more out-of-home consumers," said Rex Regner, director of product development and innovation for CBS Radio in Washington, D.C. "Our clients will literally own the eyes and ears on the road and we will be able to provide them with detailed analytics on how their messages are being seen — an important component that sets this product apart from similar services."
Wrapify CEO James Heller said the partnership could be a boon for Wrapify, as it's possible that CBS Radio is piloting the model in D.C. with intentions to roll out the program in other regions, if successful.
"I think this is going to be a slam-dunk," Heller said. "Selling radio time is getting more competitive all the time, as streaming and music and talk from the cloud and other technologically driven consumer shifts are increasing competitive platforms."
Heller added that CBS Radio will have a chance to marry a visual impression with an auditory one in a multiplatform ad push.
"Imagine tooling around the Beltway or up the BW Parkway and seeing a wrapped car with messaging that reiterates the brand you just heard about on the radio," Heller said. "That's gold."