WAGES: MICRO BUSINESSES HAVE LIMITED STAFFING OPTIONS
Absorbing Big Change on a Small Scale
Originally published February 2, 2017 at 3:15 p.m., updated February 2, 2017 at 3:15 p.m.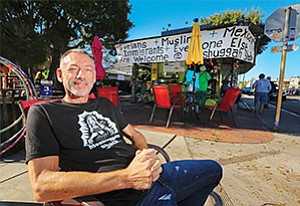 San Diego — Businesses within San Diego's hospitality industry are looking for ways to absorb the costs of the city's increased minimum wage and sick leave benefits.
"Obviously it is going to raise my costs of labor," said John Bertsch, owner of the Meshuggah Shack coffee cart businesses located in Mission Hills and the East Village. "I have increased my prices to try to compensate for the increase in costs."
Bertsch said he supports efforts to help workers earn a living wage, but he knows that businesses like his will be challenged to make ends meet. He
"I have to go back to the drawing board and rethink the business in every aspect – the menu, my purchases, all my expenses."
Oz Blackaller, proprietor of Cueva Bar, on new regulations forcing him to re-evaluate his business model
has two full-time employees and a dozen employees who work part time.
"I do support the increase in minimum wage and I do support the sick leave ordinance, (but) they will definitely impact me," he said. "It's just another challenge that business owners face."
Bertsch said he plans to take on additional shifts himself to save money.
"Where possible, I have trimmed hours for employees," he said. "If someone can accommodate having their hours reduced, that is what I try to do."
Back to Drawing Board
Oz Blackaller, proprietor of the Cueva Bar on Adams Avenue, has five part-time and one full-time employee. When someone goes out sick, he must scramble to find a replacement or come in himself. If he needs to ask his wife to take the missing worker's place, she must find a babysitter.
"I have two or three people in the kitchen at any given time," he said. "We're a small business."
While Blackaller doesn't want workers to come to work when they're sick, he worries that some employees may take advantage of the expanded sick leave requirement. The new regulations are forcing him to develop a new business plan.
"I have to go back to the drawing board and rethink the business in every aspect, the menu, my purchases, all my expenses," he said. "We do feel challenged."
Even so, he supports the increased wages and sick leave.
"We want to make sure the employees get compensated," he said.
The city's earned sick leave and minimum wage ordinance requires all employees, regardless of wage, to receive a minimum of five days of earned sick leave, which can be provided upfront or accrued at a rate of at least one hour for every 30 hours worked. Employers may cap the accrual of earned sick leave at 80 hours.
On Jan. 1 of this year the city's minimum wage increased from $10.50 to $11.50 per hour, an increase of more than 43 percent from the $8 level in 2015.
In 2019 and each year following, the city's minimum wage will be linked to inflation. However, the state also has implemented a series of increases to reach a $15 minimum wage by 2022; the higher of the two rates will prevail for workers in San Diego.
San Diego's new rules treat all industries and businesses the same. An employer can't use tip credits to satisfy its obligation to pay the minimum wage.
The new benefits are forcing restaurants to be innovative in San Diego, said Chris Duggan, director of local government affairs for the California Restaurant Association.
A Major Hit
"It is a major hit to the restaurant industry," he said, causing some businesses to reduce their labor forces and raise menu prices.
He expects San Diego restaurants to begin adding surcharges to bills as wages increase.
"We are seeing surcharges of about 3 to 4 percent being placed on bills," he said. "It's not new in the state. San Francisco does it. Los Angeles does it. It's just new to San Diego. You're allowed legally to add a surcharge. Labor costs have increased dramatically."
Restaurants are labor intensive. In addition to cooks and waiters, there often are hosts to seat guests, busboys, and cashiers. Duggan expects restaurants in San Diego increasingly to use technology to reduce their dependence on labor.
He foresees an increase in the use of self-service devices. More and more restaurants will have electronic tablets installed at tables that allow customers to order their meals or pay their tabs, reducing or eliminating the need for waiters.
Duggan also thinks more restaurants will adopt a fast-casual dining model, where customers line up to order their meals, then carry them to their own tables, eliminating table service.
"It's almost squeezing out the table service dining experience," Duggan said. "You'll have more of these fast-casual, limited service restaurants coming on line."
Because many other cities have a lower minimum wage, businesses in San Diego are at a competitive disadvantage, he added.
Duggan says most restaurants have a profit margin of just 3 percent to 5 percent. When labor costs rise, businesses must drop their profit margin or charge more to consumers.
Impact on Hotels
Hotel entrepreneur Robert Rauch oversees 14 establishments in the San Diego region. He said he supports the increase in minimum wage, except in the case of food servers. Most of them already are making well above minimum wage, if you count tips, he added.
"When they are already making $30 per hour, why should I increase their base wage?" he asked.
The focus should be on creating a minimum wage that helps people who are below the poverty line, Rauch added, not food servers who may be earning as much as $70,000 per year based on their tips.
Rauch said he is concerned that the rising minimum wage in San Diego will price students out of the job market. If hoteliers and restaurateurs have to pay a student trainee the minimum wage, many won't hire them and will seek out more experienced workers, he said.
"That person wants the job badly but isn't of a lot of value to me," he said of student employees. "They don't even know how to punch a time card. What will happen is they won't get those jobs."
Turning to Mechanization
Rauch predicted that the rising minimum wage will lead people in the hospitality industry to begin using robots to do jobs that otherwise would have gone to entry-level workers.
"What we're doing is looking at when we might be able to employ robotics," he said. "I bought my first robot already. I plan to employ robots to do mundane or repetitive tasks. Say a guest wants towels sent to a room. Rather than call an employee, I send up a robot."
It's a mistake for lawmakers at the state or local levels to assume that businesses can raise their prices to offset increases in government-mandated wages and sick leave, said William Evans, who serves on the executive board of Evans Hotels, whose properties include Catamaran Resort Hotel and Spa and the Lodge at Torrey Pines.
"At the end of the day it's all about economics," he said. "You only can have so much of your business employment costs. You have product costs. You have debt service. It's just the cost of doing business. If you don't have the ability to increase revenue commensurate with the increase, something has to give."