SDG&E Partners With Israeli Fuel Cell Manufacturer
Wednesday, February 1, 2017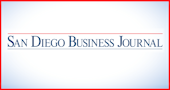 San Diego Gas & Electric Co. is working with an Israeli maker of hydrogen-based fuel cells to install back-up power systems at some of the utility's substations.
GenCell announced the partnership Jan. 31, saying it has worked with SDG&E during the past year to test the Israeli company's G5rx cells.
The product automatically charges back-up batteries and keeps them at full power for up to 10 times as long as normal battery rooms, GenCell said in a news release. The product emits no carbon dioxide.
GenCell said 30 of its G5rx cells will be installed at SDG&E substations.
"When GenCell came to our team with its fuel cell innovation, we immediately saw that this technology could help to advance our efforts in clean energy and continued excellence in reliable energy service," Dave Geier, SDG&E's vice president of electric transmission and engineering, said in a news release.