2017 NEWSMAKERS
2017 Newsmakers: Tocagen Advances Cancer Fight with IPO, Breakthrough Designation
Thursday, December 28, 2017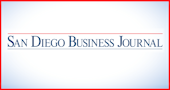 San Diego — Tocagen brought on Martin "Marty" Duvall as CEO more than a year ago to commercialize its anti-cancer therapies. In 2017, the company marked several milestones on that front.
In April, Tocagen raised $97.8 million in an upsized initial public offering. The stock offering has financed clinical testing of a combo therapy for treatment of recurrent high-grade glioma, a group of deadly brain tumors that include glioblastoma.
The company's Toca 511 & Toca FC directly kills cancer cells and immune-suppressive myeloid cells, activating the immune system against cancer. Phase 1 of testing was completed, and in October Tocagen announced it would accelerate the combo into a pivotal Phase 3 trial.
The move to merge Phase 2 and Phase 3 into one trial should expedite the drug's development and regulatory timeline by one to three years, Duvall told the San Diego Business Journal in a previous interview.
In February, promising early results led to a breakthrough therapy designation from the FDA, giving the company quicker access to senior regulators for drug advancement.
Physicians have limited options for treating high-grade glioma, with median survival rates of seven to nine months.
Tocagen's therapy appears to offer hope. More than a quarter of patients in a high-dose cohort of Toca 511 & Toca FC are still alive more than three years after treatment. As a caveat, those results involved a 23-patient subset in a first stage trial.