2017 NEWSMAKERS
2017 Newsmakers: Startup Ambassador Recruits for Home Team
Wednesday, December 27, 2017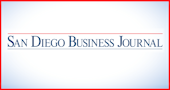 San Diego — Mike Krenn spent 2017 preaching the gospel of San Diego startups in town — and out.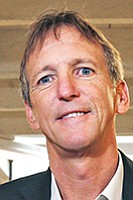 The San Diego Venture Group president established the first out-of-town outpost for local startups visiting the Bay Area — and raised more than $200,000 to kick off the effort, including $20,000 from the city of San Diego and a matching grant of up to $100,000 from the Legler Benbough Foundation.
Traveling San Diego entrepreneurs now have a five-person window office, called the BeachHead, to stop by or hold meetings in at WeWork's California Street location in San Francisco — for free.
Krenn also managed to draw more than 150 venture capitalists to town for the organization's annual Venture Summit — including Bill Maris, formerly of GV (initially known as Google Ventures), who made his local debut as the event's keynote speaker. Maris' fund, Section 32, has about $150 million under management.
But Krenn isn't just gunning to smooth the path between San Diego and Silicon Valley: He's actively looking to convince talent in the Bay Area to move south.
The Venture Group this year put up billboards in the Bay Area emblazoned with a message for engineers: "San Diego Is Better." He brought 40 San Diego tech employers up to Mountain View to meet with prospective employees at an event dubbed "Tacos and Tech."
And a handful of companies in San Diego that received financing this year, including machine learning messaging software company Cordial ($6 million) and cell sorting technology company NanoCellect Biomedical Inc. ($10 million), say introductions made by the Venture Group played a role.