2017 NEWSMAKERS
2017 Newsmakers: Martinez Guides Sycuan Through Key Hotel Project
Wednesday, December 27, 2017
San Diego — As the leader of the Sycuan Band of the Kumeyaay Nation, Cody Martinez has several things to think about. Economic development is one of them.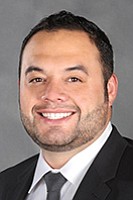 Martinez has a tribal government to run, a reservation in need of capital improvements, and people to take care of. That, on top of a large hospitality business to worry about.
The leader and the Sycuan band took a major step toward increasing revenue in 2017 by kicking off a significant redevelopment to its casino property east of El Cajon.
Like its competitors, Sycuan already has resort properties. There is the US Grant hotel downtown and the Sycuan Golf Resort (aka Singing Hills) in Dehesa. However, Sycuan could not provide its guests a Las Vegas-style experience, where vacationers can make a short trip from their hotel room to the gaming floor and back.
Separating the casino floor and the closest hotel rooms at Singing Hills are several miles of twisting country roads. It's no place for a pedestrian, day or night.
All that is changing. Sycuan announced in March that it is building a 12-story hotel tower, steps from the casino floor on the original, mile-square reservation. The business is also expanding its gaming floor, which will mean more slot machines and more revenue. A major part of the project will be an elaborate set of swimming pools. In all, Sycuan is adding 500,000 square feet.
A tourist has dizzying number of gambling options in Southern California. Sycuan is upping its game and catching up with the competition — and maybe pulling ahead by opening day in 2019.