2017 NEWSMAKERS
2017 Newsmakers: Sempra Leader So Far Plays Right Cards in Texas
Tuesday, December 26, 2017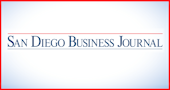 San Diego — Besting Warren Buffett is a tall order. Under CEO Debra Reed, Sempra did just that.
Sempra in August announced a $9.45 billion bid to buy ownership interest in Texas utility Oncor Electric, edging out a $9 billion package from Buffett's Berkshire Hathaway Energy. Regulatory approval is the next mountain to climb.
Sempra has sought to learn from the mistakes of two past Oncor acquisition attempts, which were swatted down by the Texas Public Utility Commission. As such, Sempra has agreed to concessions like allowing Oncor to keep a portion of its profits within its business, rather than sending them all to Sempra.
By April a thumbs up or down will come. Reed has said Oncor is a great fit with Sempra's portfolio.
With her at the helm, the company made other big moves.
Sempra's Mexican subsidiary IEnova bought a 25 percent indirect stake held by Mexico's state oil company Pemex in the Ramones II Norte gas pipeline, bringing IEnova's stake to 50 percent.
The $520 million deal, announced in October, calls for IEnova to acquire Pemex's stake in the pipeline for $231 million, plus Pemex's portion of the outstanding debt in the pipeline, which stands at $289 million.
The 281-mile pipeline transports natural gas from Nuevo Leon to San Luis Potosi. It became operational in February 2016. In October, Sempra said it expected the deal to close by year's end.
Not all was rosy for Sempra. In late November, state regulators denied a request from San Diego Gas & Electric, owned by Sempra, to bill ratepayers $379 million in damages related to the 2007 wildfires.