2017 NEWSMAKERS
2017 Newsmakers: Seals Are Businessman's Bet On San Diego Sports Fans
Monday, December 25, 2017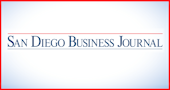 San Diego — On the heels of the Chargers' leave-taking, Alibaba billionaire Joe Tsai brought joy to some San Diego sports fans with the announcement that he would be bringing a professional indoor lacrosse team to town.
Tsai, whose family lives in La Jolla, played collegiate lacrosse at Yale University and has since maintained a love for the sport.
The Hong Kong resident, who splits his time between there and the United States, co-founded the Chinese e-commerce giant with Jack Ma. And although executive vice chairman of the company, he maintains a low profile, at least locally.
That may end soon.
His new National Lacrosse League team, the San Diego Seals — an acknowledgement of both the city's military and its marine wildlife — announced in 2017 it would enter league play the following year.
The lacrosse team will compete at Valley View Casino Center, which is also the home of the San Diego Gulls, an American Hockey League team affiliated with the National Hockey League Anaheim Ducks. The Seals' management team, which previously started and grew a successful NLL team in Colorado, aims to replicate the success it had there by introducing lacrosse as entertainment to an audience beyond those who are already passionate fans of the sport.
But before that team even entered the arena, Tsai revealed he isn't planning to stay in the minor leagues when it comes to sports team ownership.
He also this year said he would buy 49 percent of the Brooklyn Nets from Mikhail Prokhorov, the team's Russian billionaire owner. But the agreement didn't include the Barclays Center, the Brooklyn arena where the team plays. Speculation about whether Tsai may one day bring professional basketball to San Diego has yet to die down.