2017 Newsmakers: UCSD Intellectual Assets Continue to Pay Off
Monday, December 25, 2017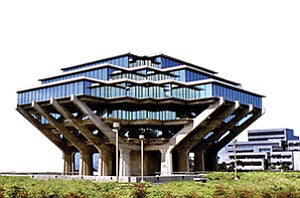 San Diego — UC San Diego had a banner 2017, with prestigious prizes going to its faculty and major donations coming in to bolster the university's already formidable academic offerings.
Three faculty members associated with the university were recipients of the 2018 Breakthrough Prize, established in 2012 by Mark Zuckerberg, founder of Facebook, and his wife, Priscilla Chan, Sergey Brin, co-founder of Google and his wife, Anne Wojcicki, founder of the genetics company 23andMe, and Russian businessman and philanthropist Yuri Milner. Recipients receive a cash award of $3 million each.
Full-time faculty members Don Cleveland, who studies fundamental cellular mechanisms in the search for new treatments for diseases like amyotrophic lateral sclerosis (ALS), and James McKernan, a mathematician who investigates algebraic geometry and multivariate polynomials, were recipients, as well as Salk Institute for Biological Studies plant biologist Joanne Chory, an adjunct professor in UCSD's Division of Biological Sciences.
Cybersecurity expert Stefan Savage, also a professor at UCSD, received a "genius grant" from the John D. and Catherine T. MacArthur Foundation. The no-strings-attached grant totals $625,000 over five years.
San Diego angel investor and UCSD alum Taner Halicioglu donated $75 million - the biggest gift in university history — to establish the Halicioglu Institute for Data Science. And Qualcomm Inc. co-founder Franklin Antonio made a $30 million gift to go toward a new building for the university's Jacobs School of Engineering.
The school's athletics community also got a jolt of excitement in 2017 with the announcement that UC San Diego would join the Big West Conference, setting it up for a debut as a Division 1 school.