2017 Newsmakers: IDEA1 Creates Inviting, Inspiring Space
Thursday, December 21, 2017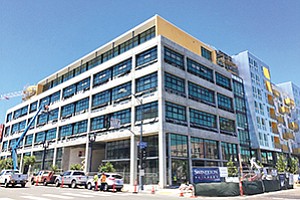 San Diego — Downtown San Diego's East Village got a building with a very different perspective with the November completion of the $91 million IDEA1 project that combines office space, apartments and retail space.
Unlike others that are closed off to the outside, the six-story IDEA1 at 1200 F St., embraces the surrounding community with wide walkways that lead to a 13,000 square-foot open-air atrium which developers David Malmuth and Pete Garcia said would be a stage for people to "come put on a show."
"We're working on our programming calendar for the first six months of next year, so we should have some fun events taking place in the HUB," Malmuth said in mid-December. "We've got what we think is a terrific space and we're looking at ways to activate it that can enhance the lives of the residents and the greater community."
Since IDEA1 opened in November, the digital marketing company Seer Interactive has moved into 7,700 square feet of first floor, two restaurants are gearing up to open in March — Lola 55 and Young Hickory — and people have started moving into IDEA1's 295 apartments.
"We're right on target," Malmuth said, adding that the only commercial space yet to be leased is a planned bike shop on the first floor.
Overlooking the HUB on the second floor is a glass enclosed "IDEA Box" for conferences and meetings and a10-by 17-foot window that turns into a video screen at night.
IDEA1 also has a roof-top hot tub, a clubhouse and barbecue pits.
Bounded by Park and E and F and 13th streets, IDEA1 is in the center of a 93-acre IDEA district that covers 35 blocks and will include the $60 million Broadstone Makers Quarter seven-story residential and retail product scheduled to open in spring 2018 and the $23 million Block D office building set for completion.