PROPERTY: HIPSTERS HAVE A NEW OPTION: LEMON GROVE
Urban Chic Begins to Test the Waters of Suburban Submarkets
Tuesday, December 19, 2017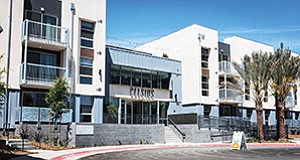 San Diego — San Diego County's smaller cities within easy commuting distance to downtown might be ready for a more hip, urban housing choice.
That's the bet developer CityMark Development took when it built the $20 million Celsius apartments in Lemon Grove, a typical suburban market.
The 84-unit complex comes with amenities normally associated with new downtown projects, from a state-of-the-art fitness center to a dog park, a sundeck terrace with lounge seating to a gas barbecue area and a community room with a pool table and large flat-screen television.
"We wanted to push the envelope," said CityMark broker Russ Haley. "We feel, to a certain extent, we're hitting new markets. It's a little pioneering on it."
CityMark's project is on target as part of what's likely to be a growing trend to capture an underserved market of people who want some of the amenities offered in pricier downtown apartments but can't afford the rents or like the convenience of living closer to where they work in the suburbs, according to several experts.
"I think CityMark, with this Lemon Grove project, has thought out of the box," said Darcy Miramontes, executive vice president of the commercial brokerage firm of JLL.
"They have done a good job here of speaking to residents' desire to have community, a sense of community, and amenities that drive them to the project."
'Urban/Suburban
Similar projects have popped up in North County and in Otay Mesa and more are likely elsewhere in San Diego County, Miramontes said.
The CityMark site, in particular, was a good location, she said.
"Lemon Grove is a market where not a lot of new product has been built or exists, like a lot of submarkets in San Diego" Miramontes said. "There's a desire for newer, nicer projects."
Rachel Parsons, vice president of the commercial real estate brokerage firm CBRE, said lenders are looking for projects like Celsius to support.
"We just need more developers like CityMark to believe in these areas," she said. "This is exactly what everyone is looking for. We call it urban/suburban."
Parsons said Celsius' location near a trolley stop makes especially attractive.
"There's a huge demand for residences near public transit," Parsons said. "It's just hard to acquire sites near trolley stops. There just aren't that many opportunities."
'An A Building in a B Market'
Describing Celsius as "an A building in a B market," broker Haley said Lemon Grove "has the propensity to be a lot more urban."
The location was a key factor in CityMark's decision to proceed with the project, as was the warm welcome he said CityMark got from city officials.
"Everybody wanted to see a fresh, new, market-rate project," Haley said.
Financing also was a factor.
San Diego's Fident Capital has done other projects with CityMark, and was willing to take a chance on Celsius.
CityMark has built a number of successful projects in and around downtown San Diego, including the 86-unit Aperture condominiums in Little Italy, the M2i retail and residential loft project in East Village, and the 126-unit Doma condominiums in Little Italy.
"If somebody we didn't know came with the same project, we probably would have looked at it differently," said Fident founder Kevin Choquette. "There is a latent demand in the marketplace, but it is the developer's vision that articulates that to investors."
Choquette said the demographics of Celsius also were appealing, with a ready market of people living in older buildings with nowhere else to go that they could afford.
Rents in Celsius range from $1,550 to $2,300 a month. The apartments range in size from 629 square feet to 1,482 square feet, depending on if they are one-bedroom or two-bedroom units.
So far, CityMark's Lemon Grove bet has paid off.
Completely Rented
Celsius went on the market in April and was fully rented by October, Haley said.
Now, CityMark is planning to build an 18-unit addition to Celsius.
The company also is looking to develop similar projects in La Mesa, El Cajon and Imperial Beach.
"There's clearly a market for this type of urban, hip living in these types of areas," Haley said.
CBRE's Parsons agreed.
"It's very attractive to the millennial population," she said. "It's a great, affordable price point."