RECOGNITION: TWO BUSINESSMEN LOOK TO BRING OUR BEST TO HOMELESS PROBLEM
2017 Newsmakers: Two Businessmen Look to Bring Our Best to Homeless Problem
Monday, December 18, 2017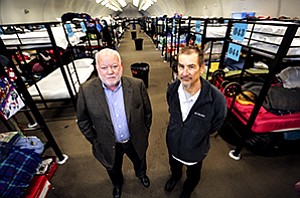 San Diego — Ideas are fine, but they are nothing without execution.
Peter Seidler and Dan Shea saw suffering among San Diego's burgeoning homeless population. With fellow business leaders, they started to really think about the issue in late 2016 and 2017, and pushed for some sort of fix.
By December, they could see some tangible results of their advocacy. The two were recently able to walk through a "bridge shelter" for homeless San Diegans at the end of Newton Avenue in Barrio Logan.
Run by the Alpha Project under a $2.8 million contract from the San Diego Housing Commission, the shelter opened Dec. 1. By Dec. 11 it had 125 tenants and was ramping up to fill its 350 beds.
Two similar bridge shelters are scheduled to open later this month, bringing total capacity to 700, according to the office of Mayor Kevin Faulconer.
Team Effort
Seidler and Shea dismissed credit for the bridge shelters, saying it should really go to a group of business and political leaders. Dan Herbert, Keith Jones, Pat and Stephanie Kilkenny, Jeff Martin, Mitch Mitchell and Tom Mulvaney have given time and business expertise to the project, they said. Gordon Walker of the Regional Task Force on the Homeless and Rick Gentry from the Housing Commission also helped.
Significant help from the political sphere came from Faulconer, county Supervisor Ron Roberts, and San Diego City Councilmembers Myrtle Cole and Chris Ward. Taking up the issue required political will, Seidler said.
Even so, the San Diego Business Journal sees Shea and Seidler as spark plugs that got the engine to fire. For bringing ideas to execution, the Business Journal has named them Business People of the Year.
Providing Necessities and Social Services
The first thing that greets visitors walking through the door of the Newton Avenue shelter is a very large Christmas tree. It nearly touches the high, peaked roof of the tentlike structure. The decoration would not be out of place if it was at the Hotel del Coronado.
The long, heavy-fabric building contains row upon row of beds. The section near the front recently had many occupants. Farther back, the beds were empty, with linens folded neatly. Outside were portable toilets as well as shower facilities.
People also sat outdoors, under canopies set up next to the San Diego Trolley yard. One group watched a large TV.
The shelter provides meals as well as a program of social services.
Seidler and Shea move in an entirely different world.
In their business lives, they run big enterprises. Seidler is managing partner for the San Diego Padres baseball club and a founder of Seidler Equity Partners. Shea is with Paradigm Investment Group LLC, which runs several quick-service restaurants. He is also the person behind Donovan's Steak & Chop House.
In a previous interview, Seidler spoke of taking late-night walks in his coastal San Diego neighborhood, crossing paths with street people, and having some interesting conversations.
Eighteen months ago, the two business leaders convened a small group to study the issues around homelessness. They met every Tuesday at the University of San Diego, did research, crunched numbers and used their standing in the community to get other people to join their cause. They pushed for a short-term solution to get the homeless off the streets.
A January census from the Regional Task Force found 9,116 homeless people in San Diego. Some 5,621 of those did not have a place to sleep at night.
A key driver of San Diego's homeless crisis is a lack of affordable housing, Jim Vargas, CEO of homeless provider Father Joe's Villages, said in an earlier interview. Vargas called the typical, $1,700 monthly rent for a one-bedroom apartment and low vacancy rate a toxic combination.
The situation on the streets was made all the more pressing by a hepatitis A outbreak, largely among San Diego County's homeless and drug-using communities. By Dec. 6 the outbreak had sickened 569 people and taken 20 lives.
Temporary Shelters
Seidler and Shea hit upon the idea of housing the unhoused in industrial-sized, semi-permanent buildings that are actually large tents. At one point. they went on an assertive public relations push.
In June, Seidler, Shea and their allies passed around a slide deck pushing for temporary shelters: one in every San Diego City Council district. A temporary building housing 250 people, multiplied by nine council districts, could get 2,250 people under a roof at night, Shea wrote. Such a strategy would distribute the political pain and avoid concentrating shelters in areas such as Barrio Logan and East Village, he said.
The expense of putting up industrial tents, including site work, would come to $16.67 per person per day.
The two businessmen packaged their presentation with a quote from Walt Disney: "The way to get started is to quit talking and begin doing."
At this point, the bridge shelters are going up where Seidler and Shea predicted they might, in Barrio Logan and East Village. Another will open in the industrial section of Point Loma.
Looking back over the last year, Shea and Seidler said much of their work has been getting community members on the same page. Seidler recalled having some "heated, loud arguments" about the intelligent thing to do, or the right thing to do.
The two business leaders also see plenty of work ahead. "The collaboration is in the second inning," Seidler said, "and we've got to get it to the ninth inning."
He said the issue of homelessness has many little pieces, and will never be totally solved. The best the community can hope for is to drive the problem down.
The Lucky Duck Foundation
A key helper in this private effort is Pat and Stephanie Kilkenny's Lucky Duck Foundation, which is handling the funds. In the last six months it has raised in excess of $2 million for the homeless shelters, Shea said.
He added that the foundation is putting finishing touches on a website that will take private donations for the shelter project. The site will be a way to bring in donations in the $5 to $25 range.
One need is 700 sets of clothing — sweatpants with matching jackets — for the eventual 700 shelter residents, Shea said.
Seidler and Shea can't take all the credit for the bridge shelters.
When he was in the White House, President Theodore Roosevelt liked to call his position a "bully pulpit," meaning an excellent and conspicuous place to speak out on issues.
The two businessmen took hold of San Diego's bully pulpit and started speaking, helping to prod the community from inaction to action.