WELLNESS COS. HELP CARE AND COVERAGE PROVIDERS FIND WAYS TO EFFECTIVELY REACH AND INFLUENCE DIVERSE CUSTOMER BASES
Becoming Part of The (Health) Plan
Sunday, December 17, 2017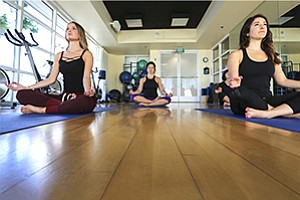 San Diego — Swaying rural teens in Arkansas to stay away from chewing tobacco, a habit ingrained in the local culture, is no easy task. Nor is crafting relatable messages for teens on the dangers of prescription painkiller abuse.
So health organizations across the nation contract San Diego-based Rescue – The Behavior Change Agency to craft public health campaigns in these areas. It's part of a crop of wellness companies in San Diego catering to health plans, health organizations and employers, a contrast to others in the space with a consumer bent.
With escalating health costs, payers have become open to alternatives like fitness and nutrition. So too have they taken an increased interest in behavior modification, fueling Rescue's huge growth curve.
In 2016, Rescue's revenue was $72.9 million, a 440 percent increase over 2014's total. Clients have included Blue Cross Blue Shield of Minnesota, the Southern Nevada Health District, departments of health in four states and the U.S. Food and Drug Administration's Center for Tobacco Products.
"We're focused on communicating to someone who doesn't want to hear our message. They're not in the market for tobacco prevention methods. They're not in the market for an opioid education message. So we have to find them and engage them in a unique way," said CEO Kristin Carroll.
She said health organizations often deliver campaigns long on facts, but short on persuasion. Likewise, commercial ad agencies are versed in driving sales, but not necessarily changing behaviors.
"There's an opportunity to connect the dots across public health, community organizations, media and technology," Carroll said.
For Rescue, that's recently involved tackling the opioid epidemic. Last month it launched a largely digital campaign — Over the Dose — targeting at-risk teens in Vermont. The idea is to drive interaction.

"It's not only fact-based information, but a digital experience that allows people to interact with the information, so that they're not just reading, but internalizing. We find that's much more impactful than just telling or scaring people," Carroll said.
Outside of health care, Rescue has increased the attendance in after-school programs at San Diego Unified School District.
Its campaigns start with segmenting a target audience based on interests, lifestyles, influencers and habits. The company, formed in 2001, says mass messages can be wasted on those who aren't at risk — and fail to reach vulnerable populations.
From there, Rescue holds focus groups to understand values, habits and structural challenges in unhealthy behaviors. The company then determines whether a change in policies, knowledge or norms is the best tack.
Third-party observers follow cohorts to gauge the success of campaigns.
American Specialty Health
Another growing wellness company catering to health plans and health organizations: American Specialty Health, which reported $422.1 million in revenue in 2016, meaning a three-year growth of 76 percent. The company was founded in San Diego and relocated its headquarters to Indiana in 2013, though it still has 812 employees here.
The company is something of a provider for a provider.
American Specialty Health, among other things, developed a network of acupuncture and chiropractic providers that health plans use to supplement their care. Sharp Health and Scripps Health, for instance, contract with the company.
"They come to us because we can do that in a cost-effective fashion," said Douglas Metz, chief health services officer and executive vice president of the company. "We can do it better and cheaper than they can. That's basically the bottom line,"
Metz said the Affordable Care Act acted as a catalyst for growth in recent years, as clients put a greater emphasis on affordability and quality. American Specialty Health fit this need, sparking expansion into additional regions across the nation, he added.
Its expanding network, in turn, attracted new clients.
The company's reimbursement models, another reason for success, include Medicare Advantage, which allow providers to add benefits to their traditional plan, including chiropractic.
Recently, American Specialty Health debuted "EmpoweredDecisions," pitched as an all-encompassing solution for patients with back and general pain, and opioid users. The program, launched as a pilot project, would be offered through health plans or directly by an employer.
It links disparate parts of the medical system, centering on online resources like an app, as well as personalized plans based on an algorithm assessing health needs and an individual coach.
Synthesizing Information
Custom is also the name of the game for MD Revolution, which developed a smartphone app bringing together health and fitness data from sources such as digital blood pressure monitors. This not only helps patients track their health, but predictive software determines which users are most likely to follow health regimens, information that's factored into chronic disease management programs.
The La Jolla company works with providers and payers. Its first chronic care management customers enrolled in 2015, when payments were made under a Medicare Part B code.

Under Medicare rules, physicians and providers are reimbursed for 20 minutes of non-face-to-face time with each for their patients with chronic disease.
Then there are specialty wellness companies focused on the employer side of the equation. Carlsbad-based Sonic Boom's program is designed to improve employees' daily health habits through games and incentives.