HEALTH: IT WILL ALSO RESTRUCTURE TOP HOSPITAL LEADERSHIP
In Budget Move, Scripps Health to Cut Corporate Services By $30M
Thursday, December 14, 2017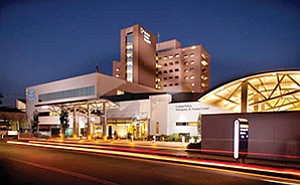 San Diego — Scripps Health will cut corporate services by $30 million and replace the chief executive role at its hospitals with a new leadership model, according to media reports.

Scripps Health President and CEO Chris Van Gorder in an internal staff memo said that in 2016, for the first time in 15 years, Scripps did not achieve its operating budget, reported Modern Healthcare in a Dec. 2 article.
The November memo attributed this to declining reimbursement — two-third of Scripps patients are covered by Medicare or Medicaid — and increased operating costs, the article states.
Scripps' operating income over the last five years has declined, Van Gorder said. 2016 operating income was $142.82 million, down nearly 8 percent from 2014, according to a Jan. 26 Scripps online revenue bond form.
The memo did not specify what would get the axe to reduce corporate services by $30 million, states the Modern Healthcare article.
'A Sobering Warning'
The publication Fierce Healthcare in a Dec. 5 article reported additional details from the memo, including that while Scripps didn't lose money and is financially strong, Van Gorder described a "sobering warning of harder times to come."
Scripps Health did not provide a copy of the memo nor an interview with Van Gorder as requested by the San Diego Business Journal.
Fierce Healthcare also stated the CEO role will be eliminated at Scripps' five hospitals.
In the memo, Van Gorder said there will be now be a chief executive for a north and south region, as well as well as one executive to oversee ancillary services, according to the article. The north region will include Scripps Encinitas, Green and La Jolla campuses and the south region will encompass Scripps Mercy San Diego and Chula Vista campuses.
These regional leaders will reportedly oversee chief operations executives, who will run daily hospital operations. In addition, Scripps will shift to a joint leadership model between hospital administrators and physician leaders to align objectives, according to the reports.
Many Changes Within 60 Days
Many of the changes will reportedly come within 60 days. They represent "a significant shift in organizational structure," said Melody Schiaffino, an assistant professor at San Diego State University's Graduate School of Public Health, in a statement to the Business Journal. Schiaffino said that Intermountain Health in Utah recently announced a similar move, going from a divisional structure to a matrix-type design, which better aligns with Affordable Care Act models of care delivery.
"So while this is very exciting, the motivation behind this effort is the key to whether or not this is successful I would say, as does evaluation. I think Scripps is probably on the right track given their track record but while I don't know the full scope of their structure and plan, matrix designs are definitely the way hospitals have been moving toward internally for some time now," Schiaffino wrote.