Ionis Earns $45M Licensing Fee for Huntington's Disease Drug
Monday, December 11, 2017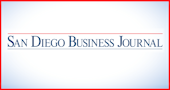 Drugmaker Ionis Pharmaceuticals in Carlsbad has licensed what's being called a groundbreaking Huntington's disease treatment following promising early trial results.
Roche, which is seeking to bring the drug to market, paid Ionis $45 million.
The drug, Ionis-HTTRx, is the first therapy in clinical development designed to target the underlying cause of Huntington's disease by reducing toxic mutant huntingtin protein. A Phase 1/2a study found it did just that, and the drug passed safety tests in humans.
"The results of this trial are of groundbreaking importance for Huntington's disease patients and families. For the first time, a drug has lowered the level of the toxic disease-causing protein in the nervous system, and the drug was safe and well tolerated," said Sarah Tabrizi, director of the University College London's Huntington Centre, as well as the global lead on the study.
Tabrizi said the key now is to move to a larger trial to test whether the drug slows disease progression.
In the U.S. the neurodegenerative disease, marked by the deterioration of mental abilities and physical control, affects 30,000 people, and 200,000 are at risk of inheriting it.
To date, Ionis has earned $55 million in upfront and milestone payments from its relationship with Roche. Ionis is eligible to earn additional milestone payments as the drug progresses in development, as well as royalties on sales if Ionis-HTTRx is commercialized.