Greycroft VC Ian Sigalow to Headline Venture Group 'Outlook'
Sunday, December 10, 2017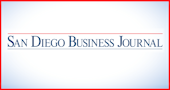 One of the founders of Greycroft LLC, a venture capital firm with more than $1 billion under management, is slated to headline the San Diego Venture Group's annual Venture Outlook event Jan. 11.
Keynote speaker Ian Sigalow started Greycroft, which has offices in New York and Los Angeles, with Dana Settle and Alan Patricof in 2006.
The firm has a $204 million venture fund and $365 million growth-stage fund, from which it invests as little as $100,000 up to a total of $35 million from the growth fund in internet and mobile companies.
The companies in which the firm has invested are headquartered in more than a dozen countries and 20 U.S. states, according to Greycroft.
Sigalow led the firm's investments into Buddy Media, which was acquired bySalesforce.com; Plated, which was acquired by Albertsons; Viz, which was acquired by Nielsen; Venmo, which was acquired by Braintree; and Braintree, which was acquired by eBay's PayPal subsequent to its acquisition of Venmo; among others.
Previously, Sigalow founded payment encryption firm StrongData Corp., and spent several years with Boston Millennia Partners, another VC firm.
His background also includes a stints investment banking in the technology group at Donaldson, Lufkin, and Jenrette and strategy consulting with theArnold Business Strategy Group.
Sigalow, who lives in New York City, has a degree in economics from MIT and an MBA from Columbia University.
The event, which is free to SDVG members or $50 to attend otherwise, will be moderated by David Coats, founder of San Diego-based VC firm Correlation Ventures.
Correlation, of which Coats is managing director, launched in 2012 with a focus on the use of predictive analytics in venture capital. The firm has more than $350 million under management. Coats began his VC career in 1997.
The event, set for 5:30-8:30 p.m. in Building N at Qualcomm, 5775 Morehouse Drive, aims to provide a previous of "what's in store" for 2018 when it comes to venture investment.
For more information, visit sdvg.org.