Odonate's Planned IPO Aims for $150 Million Mark
Originally published December 3, 2017 at midnight, updated December 3, 2017 at midnight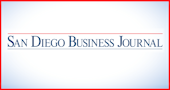 San Diego — Odonate Therapeutics has stated terms for its eye-popping $150 million initial public offering, the latest from the stealth IPO that emerged in mid-November.
The San Diego company, which did not respond to an interview request, is staying mum on plans. But recent Securities and Exchange Commission filings shed light on the IPO, as well as the company's goal of resurrecting an oral chemotherapy drug called tesetaxel.
In 2013, Odonate licensed tesetaxel from Japanese company Daiichi Sankyo, which discovered the drug. Additional rights were obtained from the bankruptcy assets of Genta Inc., a New Jersey company that first licensed tesetaxel in 2008 and conducted clinical testing.
Now Odonate — which aims to be the largest San Diego IPO in recent years — is enrolling patients in phase 3 trials of tesetaxel. The company is banking on the drug being a better treatment for cancer patients, since it's in pill form and reportedly less likely to cause side effects. The status quo is intravenous chemotherapies that demand travel to a center.
In addition, tesetaxel demonstrated robust "anti-tumor activity" in phase 2 studies among patients with advanced or metastatic breast cancer, according to Odonate.
The Team
The company has been quietly putting together a team. It has 44 employees, including CEO Kevin Tang, who has been with the company since inception and also is the president of Tang Capital Management, an investment company specializing in life sciences.
On Nov. 13, the company burst onto the scene.
SEC paperwork filed that day signaled plans to raise $173 million, which was lowered in a Nov. 27 filing to $150 million. The Nov. 27 paperwork notes Odonate intends to sell 5.88 million shares of stock at a midpoint price of $25.50 per share.
As part of its stock, Odonate granted its underwriters, Goldman Sachs & Co., Jefferies, and Cowen and Co., a 30-day option to buy up to an additional 822,000 additional shares. Existing stockholders affiliated with company directors intend to buy $25 million in shares in the offering.
It's expected the company, which plans to list on the Nasdaq under the symbol ODT, will price the week of Dec. 4.
If Odonate is successful in raising $150 million, this would far exceed Tocagen, which in April posted a $97.9 million IPO, the largest local offering since Otonomy's $100 million debut in 2014.
Mixed Views
Analyst Donovan Jones, who runs IPO Edge, has mixed views on Odonate's planned IPO.
In a research note, Jones stated it's tough to predict how phase 3 trials turn out, but given past clinical results and the wide use of this drug type, the likelihood of a favorable outcome seems reasonably high.
Post-IPO, the firm would have approximately $207 million in cash and essentially no liabilities, according to Jones.
But Jones said topline results from the clinical trials would be 2020 at the earliest, so investors have a long wait. He added the valuation appears to be significantly higher than similar stage biopharmas, and the licensing agreement with Daiichi Sankyo puts a damper on any future upside.
Odonate must pay Daiichi Sankyo up to $31 million in aggregate future milestone payments, plus a tiered royalty "that ranges from the low to high single digits, depending on annual net sales of tesetaxel," according to paperwork.
"Although Odonate has a promising drug treatment, which admittedly may ultimately outweigh the negatives depending on its trial results, given the above concerns, my opinion on the IPO is neutral," Jones said.
The 2017 Wave
Nationally, 2017 has seen an increase in IPO volume, fueled by a rising stock market with low volatility, according to Jay Ritter, a professor at the Warrington College of Business at the University of Florida.
Another factor could be new SEC rules announced this summer that allow all companies to confidentially file paperwork for IPOs, a move meant to boost the public offerings.
Confidential filing was introduced under the 2012 JOBS Act.
Now, companies only have to file S-1 paperwork — brimming with financial information of interest to competitors — 15 days before their "roadshow," a tour of presentations to investors.
"The standard practice these days is that all companies take advantage of stealth filings," said Ritter. "It allows them to keep information confidential from competitors for a couple more months. And investors still get to see the registration statement a few weeks before going public, so investors have plenty of time to read up on the company."
Sean Clayton, a partner out of Cooley LLP's San Diego office, echoed that statement. Clayton, who does IPO work in life sciences, said Odonate's IPO shows that San Diego is still a major force nationally. "It keeps San Diego front and center in terms of the life sciences community," Clayton said.