Community Spirit and Spirits May Be Good Mix at Mall
Originally published December 3, 2017 at midnight, updated December 3, 2017 at midnight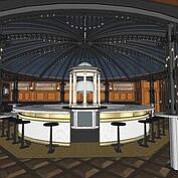 San Diego — A combination cocktail bar and tasting room by CH Projects is set to open in the Westfield UTC mall in January.
Raised by Wolves by CH Projects will include 1,500 square feet of retail space and a 2,000 square foot cocktail bar and tasting room designed by Paul Basile of BASILE Studio.
"The UTC area is pretty unique," said CH Projects co-founder Arsalun Tafazoli.
"It's a diverse melting pot of highly creative people, but frankly, what's missing is the atmosphere of a walkable neighborhood, which is what we want to help foster in the new Westfield UTC," Tafazoli said. "Our CH concepts are built to cultivate a sense of place, and with Raised by Wolves, we look forward to the opportunity to help pioneer a model where we can enhance the social life within a suburban district that doesn't necessarily have that pre-existing walkability factor."
The company is investing more than $2 million in the UTC project, Tafazoli said.
"Honestly, this could be a horrible idea, given that we're living in an age where most buy everything online," Tafazoli said. "But we like to think that if we care enough about the effect the concept could have on the community, and we put enough into it, that care translates over, and people will see the benefit of coming in and having that visceral experience, versus going online."
Raised by Wolves retail shop will feature a collection of books and barware along with a line of CH branded goods.
An entrance within the shop will lead to a tasting room, where CH bartenders will conduct classes and seminars for the public.
The tasting room from time-to-time also will serve as a reservation-only cocktail parlor, host pop-ups, and feature guest bartenders from around the world.
"We're creating a one-stop-shop for your at home bartender needs, which is something that currently does not exist in today's marketplace," said Anthony Schmidt, CH Project's beverage director.
CH's beverage programs have been listed as industry leaders in a number of publications, including Esquire's "Best Bars in America," Imbibe's "Cocktail Bar of the Year," and Food and Wine's "Best New Bars in the U.S," and have been noted as an "Outstanding Bar Program" by the James Beard Foundation.