ENERGY: INVESTORS SEE FUTURE FOR COST-EFFICIENT, ENERGY SAVING PRODUCT
Achates Power's Efficient Engines Expected to Be in Demand
Originally published December 3, 2017 at midnight, updated December 3, 2017 at midnight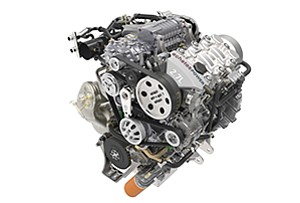 San Diego — Don't count on the gas engine to go away just yet.
There is still a long way to go before electric power displaces gas and diesel, said David Johnson, CEO of Achates Power Inc. in Sorrento Valley.
The venture-backed company is developing sophisticated, opposed-piston engines that use petroleum-based fuels more efficiently. It's going into 2018 with more money in its war chest and a significant contract from a repeat customer, the U.S. Army.
Even if manufacturers were to go all-electric — and were to set 2050 as the date when they stopped building internal combustion engines — the market would still need 2 billion internal combustion engines between now and the middle of the century, Johnson said.
That 2050 deadline will slip further into the future "if we're as successful as we intend to be" with an improved engine, he said. In that case, the market might need 4 billion to 6 billion more engines burning fossil fuels.
"There is a ton of fuel to be saved by bringing our technology to the marketplace."
Opposed-Piston, Two-Stroke Engine
Achates has designed an opposed-piston, two-stroke engine. Each cylinder has two pistons, at opposite ends of the bore; there is no cylinder head. An explosion at the center of the cylinder sends both pistons outward, in opposite directions, turning crankshafts at either end of the engine.
It was a concept that German engineers developed during World War II. The middle of the 20th century, however, did not offer the sophisticated equipment needed to optimize the engine.
The Achates diesel engine is 20-30 percent more efficient than its conventional counterpart, and the gasoline engine is 50 percent more efficient than the typical gasoline engine. The opposed piston engine is also more cost-effective to manufacture, Johnson said.
Oil Industry Backing
The oil and gas industry recently made an investment in Achates Power, capping off the company's recent, $29.8 million Series D funding round. The industry's investment came through OGCI Climate Investments, whose self-described mission is to support the development, deployment and growth of new technologies that will significantly reduce greenhouse gas emissions. Ten oil companies, including Royal Dutch Shell, BP, Saudi Aramco and Mexico's Pemex are behind the fund.
Military Role
Separately, Cummins Inc. said early this fall that it received a $47.4 million Army contract to develop the diesel-powered advanced combat engine, called ACE for short. As a subcontractor, Achates will get about a third of the funds, Johnson said. The work aligns with R&D done by TARDEC, the U.S. Army Tank Automotive Research, Development and Engineering Center in suburban Detroit.
"ACE is a key component of the Army's 30-year strategy to modernize tactical and combat vehicles, with potential for future production configurations being used in the Bradley family of vehicles and the Next Generation Combat Vehicle," Cummins said in a statement.
Cummins (NYSE: CMI) reported revenue of $17.5 billion in 2016. The corporation is based in Indiana and specializes in diesel and natural-gas engines as well as related systems.
Dept. of Energy Funding
Achates is designing its gasoline engine with funding from the U.S. Department of Energy. Johnson said he would like to pursue a follow-up grant once the funding for that project runs out in 2019.
Achates Power was founded in 2004 and has more than 200 issued patents — and upward of 200 pending.
Achates Power also named new board members at the end of October. They are John Wall, retired chief technology officer of Cummins, as well as John Koszewnik, Achates Power's chief technology officer.
Johnson said Achates has spent about $3 million in upgrading its research, development and test facilities during the past 18 months. Some $500,000 went into the company's machine shop. Its Sorrento Valley headquarters includes three test cells where technicians put the unique engines through their paces.
ACHATES POWER INC.
CEO: David Johnson
Revenue: Approximately $17 million in 2016
No. of local employees: 75, with 25 more in Michigan
Investors: Several, including OGCI Climate Investments, Sequoia Capital Partners, RockPort Capital Partners, Madrone Capital Partners, InterWest Partners and Triangle Peak Partners
Headquarters: Sorrento Valley
Year founded: 2004
Company description: Designer of opposed-piston gasoline and diesel engines