Startup San Diego Looking for Brick-And-Mortar Home After City Rejects Bid
Thursday, August 31, 2017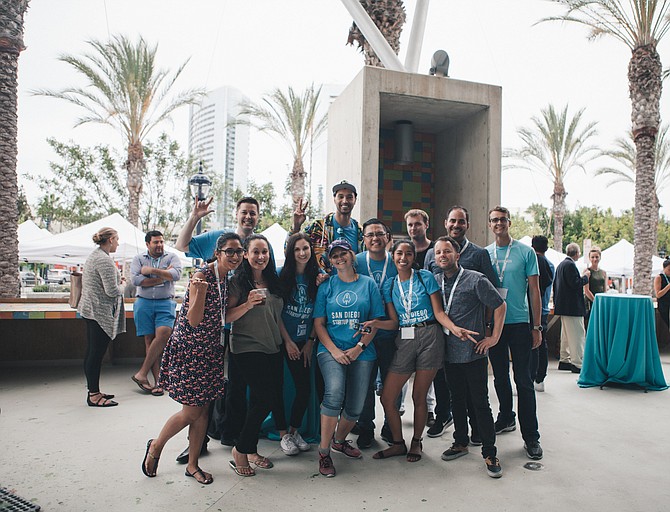 Local nonprofit Startup San Diego, the mostly-virtual organization that puts on Startup Week each year, is looking to put down roots and open a physical location in Downtown San Diego.
That's according to the organization's board member Andy White, who also works with the Downtown San Diego Partnership as its Startup Advocate.
"We want this to be the front door of the startup community," White said. "It's the place that everyone can point to — whether you're visiting town, new to town, or ready to start your next thing — and someone will be there to help you know what resources are available to you."
The community space would likely be in collaboration with the Downtown San Diego Partnership, and would include partners within the business community to fund and operate the project.
The move comes after a proposal submitted by White to operate the City of San Diego's upcoming business accelerator project was rejected last week.
In March, the city announced plans to build out a new startup accelerator complete with a coworking space, resources for entrepreneurs, and potentially seed capital for startups. The city set aside up to $2.5 million for the accelerator to get its start, and put out a call for proposals for an individual, nonprofit, or company to partner with on the project.
White jumped on the opportunity. His proposal included a long list of partners for the project, including some big names in the local startup world. According to the public proposal, White's partners included Moniker Group, SEED San Diego, Tech Coast Angels, Startup San Diego, San Diego Venture Group, UC San Diego, University of San Diego, and San Diego State University, among many others. White had also found partners across the border, with Tijuana's startup center MIND Hub and Frontera Founders included.
But White said the proposal was ultimately rejected by the city in favor of another candidate (which has not yet been announced). White said the rejection spurred the organizations to pursue their vision independent of the city.
Many of the partners on the proposal are now working together to find real estate downtown to build out a physical hub. White said the organizations, which all have tight budgets, are looking to partner with a sponsor that would provide the space for free (similar to EvoNexus' model with The Irvine Co.). Startup San Diego already has a long list of corporate sponsors that helped fund last year's Startup Week, though White said an official partner has not been nailed down.
White said his wishlist for a location would be a ground-level office adjacent to a coffee shop and brewery, with wide open outdoor space that could hold community events.
"We want it to be super high-traffic, with people coming in and out all the time," White said.
He also hopes to have a training room, and workspace for their "community liaisons" (people who are key players in the startup scene who also work full-time jobs, such as Austin Neudecker with Temi.com).
The timing of a new startup hub downtown couldn't be better, as the former anchor in the tech community, the EvoNexus incubator, is withdrawing from the neighborhood in November. Advocates for building a tech startup community in the city's core said they were disappointed by the move and feared it could disrupt efforts to grow and strengthen the downtown tech hub.
When the move was announced earlier this month, Neudecker, a mentor-in-residence at EvoNexus and the co-founder of Startup San Diego, said he was disappointed by the news that Evo was leaving the neighborhood, as they were a "mainstay of the community."
"Our goal was to build an ecosystem that's collaborative, and building density is really important to that end," said Neudecker.
White and Neudecker both said at the time that Evo's departure could spur some necessary changes in the startup community.
"We've been very dependent on a few organizations to provide most of the early-stage founder support, and we need to broaden and get more people involved," White said.
And now the effort is underway. While many details are still up in the air, White said Startup San Diego was already touring real estate for the hub. Their main barrier at this point will be lining up a financial partner.