Feeding San Diego Joins Homeless-Relief Effort
Tuesday, August 29, 2017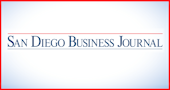 Feeding San Diego, the nonprofit hunger relief organization, has joined the homeless-relief effort of businessmen Peter Seidler and Dan Shea. The two made the announcement Aug. 29.
Seidler and Shea want to reduce the number of unsheltered homeless and reduce the number of deaths on San Diego's streets caused by homelessness. They propose setting up large industrial tents to house the homeless as a temporary step until more permanent housing is available.
Feeding San Diego is the region's largest hunger-relief charity, serving more than 25 million meals per year to seniors, children and families in need. The organization takes healthy, nutritious food which would otherwise go to waste and distributes it to local charities every day.
"We are fully committed to continuing to make a significant impact in our role by helping to provide a healthy, nutritious mix of food products including fresh fruits and vegetables, to the agencies who will be preparing meals for the residents of these new temporary shelters," said Vince Hall, CEO of Feeding San Diego, in a prepared statement.
Seidler is managing partner of the San Diego Padres and a partner in a private equity firm, Seidler Equity Partners. Shea owns the Donavan's steakhouse chain and is a partner in a second restaurant company, Paradigm Investment Group LLC.
The two have raised $1.6 million to buy and erect two semi-permanent structures from Sprung Instant Structures Ltd., and they are seeking sites for them around San Diego County.
Seidler and Shea said they expect other announcements in the coming week.