FDA Approves Tandem's Latest Insulin Pump With Dexcom Technology
Monday, August 28, 2017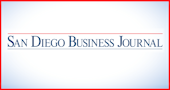 San Diego medical device company Tandem Diabetes Care announced FDA approval and the launch of a new touchscreen insulin pump with continuous glucose monitoring from Dexcom, another local company.
The announcement sent Tandem Diabetes Care's stock soaring. Its pump, called the t:slim X2 Insulin Pump with Dexcom G5 Mobile continuous glucose monitoring integration, is the first sensor-augmented insulin pump approved in which users don't have to prick their finger to make treatment decisions.
It can be used as a stand-alone insulin pump without continuous glucose monitoring, or be paired with the Dexcom G5 technology to continuously track glucose and display that information directly on the pump's home screen.
"We are setting a new standard in our industry by simultaneously offering our existing and future customers the benefits of best-in-class CGM (continuous glucose monitoring) integration on our simple-to-use touchscreen insulin pump," said Kim Blickenstaff, president and CEO of Tandem Diabetes Care, in a news release. "The t:slim X2 Pump is designed to accelerate the pace in which we can bring new innovations to people with diabetes, which is of particular importance as we develop software updates to add automated insulin delivery algorithms to our platform."
It's approved for ages 6 and older. In addition, the software featured on the pump will also be available to current t:slim X2 Pump users at no cost via remote software update.
As of 9:47 a.m. Aug. 28, Tandem Diabetes Care's stock was up 48 percent.