There Actually Is 'No Place Like Home' When Living Here
Originally published August 24, 2017 at 2:32 p.m., updated August 24, 2017 at 2:32 p.m.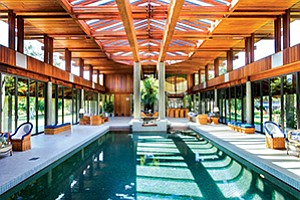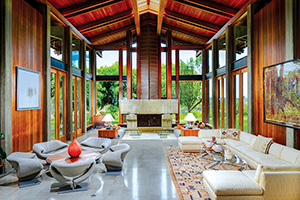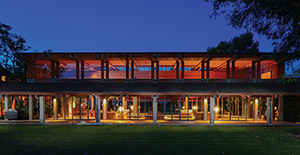 San Diego — Far removed from the main road, up a long driveway that weaves through acres of fragrant orange trees on one side and a brook on the other, the home known as Del Dios Ranch comes into view. Immediately, the sense that this home is unlike any other in the county is palpable.
And, apparently HGTV viewers agree. Recently, more than 1 million people in HGTVs Ultimate House Hunt cast votes for their favorite properties in eight categories. The HGTV Ultimate House Hunt is a month-long online contest on HGTV.com where viewers evaluate grand homes from around the world. Del Dios Ranch won the most votes in the "great estates" category, competing against properties from as far away as South Africa.
The extraordinary contemporary ranch home at 7010 El Camino Del Norte in Rancho Santa Fe is represented by Linda Sansone and Linda Daniels, both real estate professionals with Willis Allen Real Estate.
"There is nothing else on the market at this magnitude in Rancho Santa Fe," Sansone said. "It is 210 contiguous acres and of the 210 acres, the house itself sits on about 50 acres of covenant land."
Covenant land refers to the nonprofit corporation set out in 1927 to manage the community of Rancho Santa Fe, which includes the building, planning, parks and recreation departments and provides 24-hour-a-day security.
"Approximately 160 acres are non-covenant and those acres are developable," Sansone said. Thus the $85 million price tag.
Sansone said this is the first time this four-bedroom, nine-bath home and its property has come on the market. It is being sold by a foundation representing the original family, Roland and Ramona Sahm.
The Sahms' story is an American dream story realized. The couple set off for California from Boulder, Colorado, in the 1930s. After several failed business attempts, Roland Sahm started Elixir Industries in Orange County in 1948, taking it public in 1969. In 1982, he bought it back, incurring huge debt and built it into a vibrant and profitable ongoing concern.
The Sahm's were also prolific San Diego philanthropists who owned thoroughbred racehorses, including the prizewinner Super Diamond.
"He didn't buy the whole 210 acres at once, he bought them in pieces," Sansone said. "Which was really forward thinking, if you think about it."
It was also prescient of the Sahm's to hire architect Fred Briggs to design and build their dream home. Briggs was an architect in Laguna Beach who had worked primarily on commercial projects such as the Laguna Beach Library, the Dana Point Library and Main Beach in Laguna Beach including the iconic Lifeguard Tower. He hadn't been as widely recognized for his residential projects until he built the contemporary ranch-style home for the Sahm family. This set Briggs off on a new career path that led to his being named one of the top hundred residential architects in the world by Architectural Digest in its AD 100 issue.
In an Orange Coast magazine July 1997 story about Briggs' career he commented on his experience building the Sahm estate: "It's every architect dream to design a home with completely, unrestricted reign as far as available resources...money, material and design freedom."
Inspired by Louis Kahn, who built the Salk Institute for Biological Studies, and the craftsmanship era of architectural firm Greene and Greene known for its refined wood cabinetry and midcentury modernist Frank Lloyd Wright; Briggs' result is a work of art.
Among many of the stunning features in the home, Briggs widely employed a technique called "poured-in-place" concrete. Poured-in-place concrete is made at the job site in a form of sandblasted boards. The end result is a striking wood grain imprint in the concrete.
The 8,148-square-foot residence took three years to build and is a magnificent redwood, glass, and marble structure with commanding 360-degree views from its private hilltop location. The 210-acre equestrian estate includes 40 acres of producing Valencia orange groves, a lake, guest house, tennis court, a six-stall barn in the same architecture as the house and a maintenance building. It is distinguished by soaring, vaulted ceilings, with walls and beams of redwood that were milled on the property and radiant-heated marble floors. Glass skylights and windows flood the home with light and air. An entire wing of the house is dedicated to a 3,936-square-foot indoor pool and spa entertainment area. The master suite occupies a private second level; three en suite bedrooms are on a separate first-floor wing. The home's interiors were created by interior designer Arthur Elrod. Elrod was a celebrated designer in Palm Springs whose clients included Hollywood royalty and whose own home, built by famed architect John Lautner, was featured in the James Bond film "Diamonds Are Forever."
Sansone, who has 20 years in real estate, said of the ranch: "It's a prime property; there is nothing else like it."
Send luxury real estate items to sglidden@sdbj.com.