BUILDING: PROJECTS NOT KEEPING PACE WITH NEED; STREAMLINING CALLED FOR
Multifamily Construction Trend Losing Momentum in 2017
Originally published August 24, 2017 at 2:12 p.m., updated August 24, 2017 at 2:12 p.m.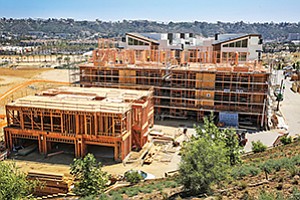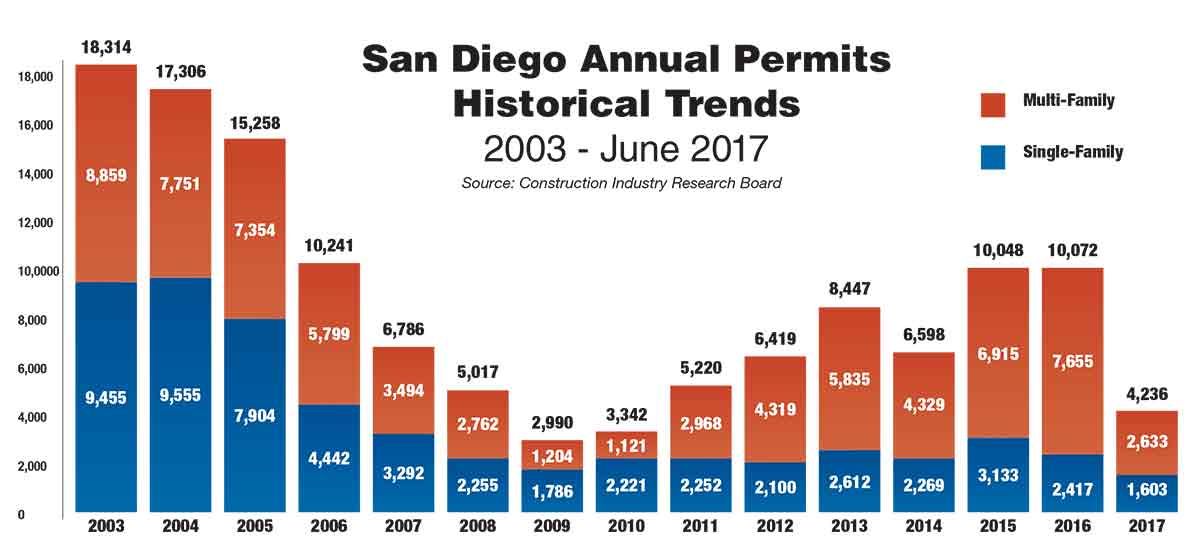 San Diego — Since 2010, San Diego builders have increasingly been in the business of multifamily housing — mainly apartments and condos. But this type of development is slowing, leaving the industry to wonder if it's a minor blip or a bigger trend.

San Diego County from January to June saw 2,633 multifamily permits, about a 47-percent decrease from the same period in the prior year. Industry representatives point to demand cooling off at the high end of the market, regulatory hurdles, stricter financing regulations and less developable land.
June seemingly indicates a rebound is afoot, given that the month accounted for about 42 percent of the multifamily permits issued so far this year. But June was likely an outlier, said Borre Winckel, president and CEO of the San Diego Building Industry Association.
2017 Outlook
The organization projects multifamily permits at the end of the year will fall well below 2015 and 2016 totals, 6,915 and 7,655, respectively.

"I think we'll close out this year with home production that's 30 percent lower than the two previous years," Winckel said, adding that this drop will likely be "more acute on the multifamily side."
To boost permit activity, Winckel said communities in San Diego County need to earmark more land that's zoned for multifamily development. He also advocated for quickening the approval process.

A bright spot, he said, is the city of San Diego, which represented the bulk of multifamily permits in June.
Going forward in the city, multifamily housing may have an easier path forward. Three months ago, the San Diego City Council approved new rules intended to ease the housing shortage, including expedited permit processing, with additional reforms in the works.
"The city of San Diego is beginning to grapple with the housing crisis. We don't see this appetite elsewhere in the county," said Winckel.
Move to Multifamily
County data over the past 15 years shows a shift from traditional homes in master-planned communities to multifamily units in downtown and "infill" on under-utilized land.
Developers looking to squeeze value out of scarce land fueled the trend. So have millennials seeking rentals, either by preference or financial circumstance.
2005 marked the start of a steep decline in single-family home construction, which remains below pre-recession levels. Yet multifamily construction climbed from a low of 1,204 permits in 2010 to 7,655 permits last year, nearly matching 2004's total.
Winckel said it's an encouraging trend, but not enough. Last year the total number of multifamily and single-family permits came to 10,072, while the region needs to build 11,000 to 12,000 units annually just to keep pace with population growth, he said.
Of the building projects in the pipeline across the county, only 30 percent are single-family homes, according to data from MarketPointe Realty Advisors.
"We are not a single-family builder anymore," Winckel said, adding the units "are very difficult to get approvals for because they often lead to the greatest conflicts with the surrounding communities."
Jimmy Ayala is the division president of Pardee Homes San Diego, a developer and builder that in the past focused on single-family housing. These days it's building single-family and multifamily units in roughly equal measure in response to the changing market.
"I think it's going to stay more of a mix," Ayala said.

Multifamily Demand Down
Josh Vasbinder, West Coast partner of the Texas-based construction and development firm Dinerstein Cos., said cities throughout California are facing a decline in multifamily construction that could extend into 2019.
Vasbinder said securing financing for the multifamily category has grown more challenging, in part because of new lending regulations. That includes the requirement that banks set aside more reserves for certain real estate deals.
In addition, Vasbinder said demand for new multifamily homes may be easing because only so many can afford high-end units. Builders argue they have to construct high-end housing to offset the cost of land, permits, regulations and a long entitlement process.
"With high land and construction costs and fees, you're typically ending up having to price these homes at the higher end of the market. And that pool of people who buy them is drying up," he said.

Russ Valone, president of San Diego-based MarketPointe Realty Advisors, believes the downturn in multifamily building this year probably won't last into 2018. Quite a few multifamily projects broke ground at the end of 2016, and about 3,100 units are underway, he said.
"2017 appears to be a bit off an out year," Valone said. "I think as we move out into next year and the year after, you're going to see more and more multifamily production, be that apartments, condominiums or townhomes."
Construction Industry Impact
Scot Sandstrom, president of the development and building firm New Pointe Communities in San Diego, said the drop in home construction compared with a dozen years ago has taken its toll on the industry.
"Because there's not the volume, you've seen larger companies with satellite offices in San Diego retreat back to Orange County, for instance," he said. "For smaller builders like me that opens up a great opportunity, but from a societal perspective, I don't think it's a good thing. If the big builders move out we're not going to meet supply."
Sandstrom said most regional cities should do more to ensure new housing is built. He cited a June report from the San Diego Regional Chamber of Commerce and Greater San Diego Association of Realtors concluding that the region as a whole is on pace to build only half of homes needed to accommodate population growth, and the homes being built are at the high-end of the market.
"Part of the reason permit activity is not going up is that there's not a readily available supply," Sandstrom said. "The demand is there."