Cox Business Announces Pitch Contest, Get Started San Diego
Thursday, August 24, 2017
A new pitch competition for startups is coming to San Diego, where entrepreneurs and small business owners can compete to win $20,000 in cash and $5,000 in technology services.
The competition, called Get Started San Diego, is a project of Cox Business, the arm of Cox Communications that sells voice, video, and data services to commercial customers.
This isn't the first pitch competition Cox has hosted, but it is the first time it's come to San Diego. Previous cities to host a Cox pitch competition include Irvine, Las Vegas, New Orleans, Tucson, and Tulsa, among others.
"San Diego is one of the most innovative and exciting ecosystems in the country for entrepreneurs," said Larry Coval, vice president of Cox Business for the West region. "Get Started San Diego spotlights companies being built locally, and provides access to expert advice and networking that can help propel their business."
The pitch competition will be judged by three locals (Al Bsharah from Seismic, Scot Chrisholm from Classy, and Brett Munster from Sway Ventures) and one Cox executive from Atlanta (Ken Kraft).
Winners of the local pitch competition will have an opportunity to compete in a national competition, according to a Cox spokesperson.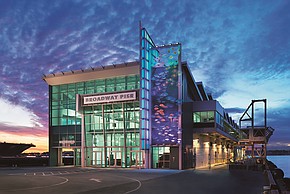 Entering the Contest
Candidates interested in pitching their business plan can apply until 11:59 p.m. PT Friday, September 1. Finalists slected to present at the live event will be notified on September 12, and will receive coaching to prep for their two and a half minute pitch to the judges.
The free event is open to the business and startup community, and is scheduled for Thursday, September 28 from 6-9 p.m. at the Port Pavilion on the Broadway Pier, 1000 N. Harbor Drive.
Pre-registration and submissions can be found at www.getstartedsandiego.com.