How ecoATM Hacked Its Prototype
Tuesday, August 22, 2017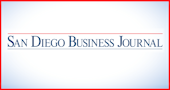 (Originally published as part of SDBJ's "The (Mis)adventures of Early-Stage Startups")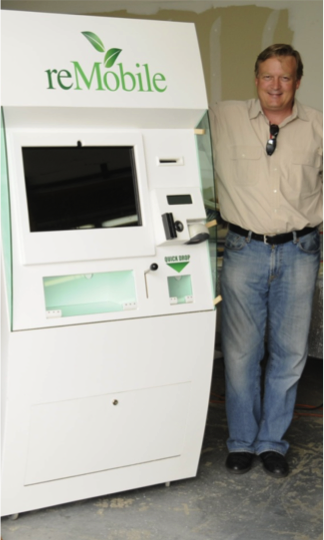 EcoATM has become one of San Diego's most notable startup successes, reportedly earning hundreds of millions in annual revenue in recent years. Its co-founder and former CEO, Mark Bowles, is somewhat of a local celebrity, speaking at startup events all over the country.
But no one was betting on ecoATM in the early days. Ask one of the 59 investors who turned the founders away.
That's because the idea behind ecoATM was ambitious and untested. They wanted to build an automated kiosk (like RedBox or CoinStar) that would pay consumers for their used cellphones. Building that kind of technology would be expensive. It would require developing computer vision technology that needed to be nearly 100 percent accurate in analyzing the condition of mobile devices. Would the investment be worth it to develop that tech? Would anyone use it?
EcoATM didn't have an automated kiosk, and they couldn't afford to build one. So they faked it.
"We built a plywood box, painted it to make it look pretty, and bolted a touch screen PC to the front of it," Bowles said.
The team called this first kiosk "Old Bessie," and she only cost the company about $10,000 to build. Old Bessie was designed to look like an automated kiosk from the outside — a machine with working parts inside. But Old Bessie was empty.
They set up Old Bessie at a grocery store. At first, ecoATM hired attendants to stand beside her to manually process the transactions. But they found that customers would avoid the kiosk if a person was standing next to it.
"People prefer automation," Bowles said. "They're uncomfortable negotiating the price for a used item with a person."
So ecoATM instructed attendants to stand 10 yards away from the kiosk, and "act like a customer" perusing aisles at the grocery store. Then, when a customer stopped to look at the kiosk, the attendant would "sneak up behind them and engage the customer while they were too close to get away."
This process continued through the first several years of the company's growth. EcoATM built 20 fake kiosks (this time, made out of metal), each pulling in $400,000 in annual revenue with a 60 percent profit margin. It was three full years before the company actually built any technology inside the kiosks. The company eventually scored venture capital and invested $13 million into building a truly automated kiosk — no attendant required. This model could scale.
After that first R&D investment, the automated kiosks only cost about $25,000 to build. Today, the company has 2,500 kiosks in about 45 states.
Bowles said it's imperative for startups to build out their "minimum viable product" or MVP before investing the big bucks into technology.
"If you're going to fail, figure out your fatal flaw as early as you can," Bowles said. "Figure it out before you spend your money, your Aunt Martha's money, and your blood, sweat, and tears. Figure out your 'Old Bessie.'"