DINING: MARKETING SELLS THE FOOD RATHER THAN THE EATERY'S STORY
Rubio's Caters to Florida's Tastes
Originally published August 17, 2017 at 2:02 p.m., updated August 17, 2017 at 2:02 p.m.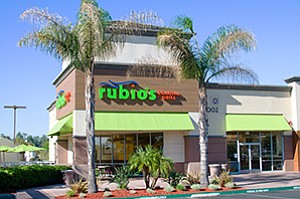 San Diego — Call it a tale of two coasts.
In California, the marketing for Rubio's Coastal Grill has long leaned on the story of co-founder Ralph Rubio getting hooked on fish tacos while on a Baja camping trip in 1974, and later giving the U.S. its first taste of the fare in a walk-up stand in Mission Bay.
But in Florida — where this summer Rubio's opened eight locations in its first East Coast expansion — this origin tale didn't resonate. Instead, focus groups there ate up accolades, such as the Carlsbad-based company being rated the U.S.'s top Mexican food chain by Consumer Reports in 2015.
Its Florida marketing campaign — largely social media, direct mail and targeted digital display ads — reflects those focus group findings.
"As we open new stores in the rest of the system, we always play up the history and authenticity of Ralph as the co-founder, and the fact that we're going to be celebrating our 35th anniversary in January," said CEO Marc Simon, who took part in the focus groups.
"That history really plays no purpose in Florida. There's no real interest in that story. But what they are interested in is the quality of the food, the quality of the experience, which we play up."
The feedback in Florida may even lead Rubio's to tweak its marketing in other areas that don't have a strong Baja connection. In addition to Florida and California, Rubio's has locations in Nevada, Arizona, Colorado and Utah, in total operating about 200 restaurants, with 4,000 employees.
Trophy Fish (Taco)
Fish tacos are already a somewhat known commodity in Florida, as opposed to earlier expansions throughout the Southwest. So rather than emphasizing novelty, Rubio's positioned itself as having the original — and most-loved — fish taco.
Indeed, the delicacy is at the center of its Florida marketing push. Meanwhile, in San Diego over the last few years, the company has sought to highlight its broad seafood menu, including gourmet tacos, salads and mahi mahi.
"With the expansion, we started at the core of what we are, which is America's most-loved fish tacos, as evidenced by the collection of awards we've won. It's a much tighter message. Whereas in San Diego, we talk broadly about coastal cuisine, shifting away from just fish tacos," said Senior Vice President of Marketing Karin Silk.
Restaurant analyst John Gordon, owner of Pacific Management Consulting Group in San Diego, said Rubio's struggled to find a strong identity a decade ago, but in recent years arrived at what's best described as California coastal cuisine.
"They've retooled and remodeled the menu and restaurants, as well as their marketing, and that's been positive," said Gordon, adding that he's watching the company's Florida strategy with interest.
The Phrase That Pays
Another big takeaway from the Sunshine State focus groups was that Rubio's established messaging on sustainable seafood fell flat. Participants associated the word "sustainable" with farm-raised seafood, which there has a slightly negative connotation. A lesson in nuance, Rubio's fine-tuned the term to "responsibly-raised seafood," eliciting a positive response, according to Silk.
But it wasn't only a matter of messaging. Rubio's altered its menu for different tastes. As one example, grilled grouper was subbed for tilapia — viewed as a low-quality fish in Florida.
The company's research also helped build a psychographic profile — a picture of interests and attitudes — of would-be Florida customers. In Rubio's case, they have a strong desire to try new restaurants, an interest in adventure and traveling, care about health but also value a quick meal, and seek fast-casual pricing.
"Those characteristic are important in who we'd look to reach," Silk said.
Instant Market Presence
Rubio's eyed an East Coast expansion for much of the last decade. The trigger was pulled when it gained the opportunity to buy eight Lime Fresh Mexican Grills from Ruby Tuesday, which were all converted into Rubio's restaurants, operating in Tampa Bay, St. Petersburg, Orlando, Miami and Ft. Lauderdale.
"To go in on a onesie-twosie basis and build from the ground up takes a long time," Simon said. "It gave us the opportunity to create a base that should allow us to create leverage and awareness on a much faster pace."
Rubio's is privately held, so Simon declined to provide financials, but said most of the eight restaurants are meeting or exceeding financial expectations. In addition, he said customer satisfaction surveys and Yelp scores are strong.
Simon said Boston and Washington, D.C., may be potential markets in the long run, though he cited the availability and cost of real estate as possible barriers. For now, the company's sights are firmly on Florida, where by early 2018 it wants to open two additional Florida locations, with plans for more (no specific targets are in place).
"We think Florida could be a much bigger marketplace," said Simon.
Treating People Right
Asked about additional marketing initiatives in the Sunshine State, Simon pointed to Lime Fresh employees being given the opportunity to transition to Rubio's, in part with the idea that they'd become strong brand ambassadors for the company.
"If we have their hearts and minds, employees can become very good brand ambassadors," he said.

For all the importance of marketing, Simon said food is the ultimate test in whether a restaurant sinks or swims.
"The most important and satisfying moment for me was when we actually served the food," Simon said of focus groups. "You can talk about brands in a vacuum and show them pictures, but when you put food in front of them, that really is the test."