BIOTECH: USE OF NANOPARTICLES MAY AID ORGAN DONATION
From Hair Removal to Assays, Co. Plays Big and Small Roles
Originally published August 17, 2017 at 2:30 p.m., updated August 17, 2017 at 2:30 p.m.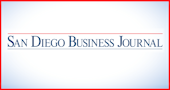 NANOCOMPOSIX INC.
CEO: Steve Oldenburg
Revenue: About $3.5 million in 2015; $4 million in 2016
No. of local employees: More than 40
Investors: Employee owned; Oldenburg owns the majority stake
Headquarters: Kearny Mesa
Year founded: 2004
What makes the company innovative: The business is finding new ways to put nanoparticles to work in fields such as dermatology, embryology and lateral flow assays.
San Diego — NanoComposix Inc...