TECH: USERS BROUGHT INTO FOLD; END GAME IS BANKLIKE SERVICES
Bitmo Using Gift 'Cards' To Solidify Relationships
Originally published August 17, 2017 at 2:22 p.m., updated August 17, 2017 at 2:22 p.m.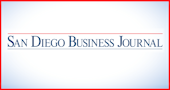 San Diego — Carlsbad-based fintech startup Bitmo Inc., which previously aimed to turn its app into the mobile alternative of choice to carrying payment cards, has stripped down the product and turned it into a delivery system for social gifting.
The startup, headed by CEO J. Michael Smallwood, struggled with the slow pace of adoption when it comes to financial innovation.
"It comes back to giving people a reason," said Smallwood of the challenges inherent in encouraging people to change their payment habits.
Relaunching Bitmo with a narrower focus on gift cards is intended to ease that transition by making people more comfortable accessing banklike services via mobile phone, he said.
The app is intended to benefit consumers, who often lose or forget to use gift cards, and retailers, which have to book unredeemed cards as a liability on their balance sheets for a time.
The Bitmo app, which the company relaunched in July, is reminiscent of Venmo, the money transfer app eating big banks' lunch with its interactive, social feed that highlights transactions.
Sending a 'bitmo'
Bitmo's gift card options are arranged by category. At the moment, the categories include "bromance," which suggests $25 to Bass Pro Shops ahead of a friend's outdoor adventure, or $15 to JiffyLube for overdue car care, and "birthday love," which suggests $25 to Panera to cover the cost of lunch or $50 to Nordstrom toward a pair of fancy heels.
Downloading the app and sending a "bitmo" — the generic term the company uses for the monetary gifts — took this iPhone user less than 15 minutes, which included a leisurely browse through the gift suggestions.
Although users are essentially doing the same thing as they would on Venmo — sending a friend or acquaintance money — the gift suggestions show recipients the sender put some thought into what they might like, Smallwood said.
In a unique twist, the app also allows those who send a gift — perhaps $5 for a latte at the Coffee Bean & Tea Leaf or $25 for a new sweater from Express — to do so without fearing the recipient will be out of luck if the brand isn't where they would prefer to spend the funds.
"Really, what makes us unique is you can swap gift cards for free," said Heather Casper, whose title with Bitmo is digital media innovator. "When you receive a bitmo through our app, if you don't like the retailer you can just turn around and flip that into a different card, dollar for dollar."
About 40 retailers have been activated on the app, with more to come, the Bitmo team said. Bitmo makes money from the retailers listed on the app with each transaction.
The startup also touts the fact that it moves users' money through accounts insured by the Federal Deposit Insurance Corp. That's not the case with some big payments companies, including PayPal Inc., which also owns Venmo, a favorite among millennials.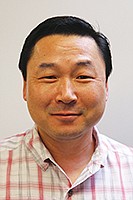 Putting a Meaning Behind It
As part of its pivot to gift cards Bitmo has brought in additional entrepreneurial firepower. Bitmo adviser Jason Pang, who earlier this year sold his app SparkFin, a stock discovery platform, to StockTwits, has recently expanded his role with Bitmo.
Pang, who following the acquisition did a short stint with StockTwits' San Diego team, which works out of the DeskHub coworking space in Little Italy, is now working nearly full-time with Bitmo to improve its product. (StockTwits, formerly based in San Diego, is now headquartered in Manhattan.)
"What I thought was really neat was how you can send a physical good spontaneously," Pang said. "It has meaning behind it."
Buying someone a latte, for example, by sending $5 through Bitmo allows someone looking to congratulate a friend or brighten their day beyond the typical social media "like," Pang said.
"People are trying to reinforce how much they care, so instead of pushing 'like' on a post you can say, hey, here's a cup of coffee, or here's a little last-minute gift," he said.
"I thought there's got to be a market for that, because it's a little bit more than a tap of a 'like' button, but it's not as serious as going the store, packing something and mailing it, or even going to Amazon."
He thinks the idea could also have traction in the ever-growing online dating ecosystem.
"At the end of the day, it's a finance-based app, it deals in money, but we want to make it a little less serious, like we did with stocks (at SparkFin)," Pang said.
$700,000 Angel Round
Bitmo also brought on David Peace, formerly with Carlsbad-based messaging software platform Zingle, as its chief technology officer.
The company closed a $700,000 angel round in July.
Among its backers is Costa Mesa-based Alchemy Fund, headed by Fabio Gratton, who branched the fund off from its parent company, Alchemy Factory, a digital health incubator. Gratton has founded and led a number of tech companies; the investment in Bitmo was his new fund's first.
Gratton and Smallwood have done business together previously: in 2011 Smallwood sold his company Syndicated Methods to Ignite Health, which Gratton had co-founded and sold to inVentiv Health in 2007.
Down the line, Bitmo still aims to pursue payments outside the gift card ecosystem, Casper said.
"The overall goal is to let that be the channel by which people become more comfortable and familiar with and excited about mobile payments," she said.