New Carrier Launching Direct Flights Between Carlsbad, Las Vegas
Wednesday, August 16, 2017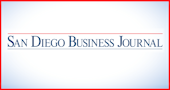 Locally based commercial carrier Cal Jet by Elite Airways plans a Sept. 28 launch of service between Carlsbad and Las Vegas.
A company statement said the twice daily, non-stop service will be offered between the county-run McClellan-Palomar Airport in Carlsbad and McCarran International Airport in Las Vegas, with more information at CalJetElite.com.
The new service is a venture between Carlsbad-based Cal Jet LLC and Elite Airways LLC of Portland, Maine. Cal Jet has contracted with Elite Airways to operate the new service on its behalf.
Elite Airways operates a fleet of Bombardier CRJ-200 and CRJ-700 jet airliners. Local service will utilize CRJ-700 aircraft with six first class seats and 58 coach seats.
Robert Daly, CEO of Cal Jet by Elite Airways, said the new service will save North County residents time that would otherwise be spent driving to San Diego International Airport and waiting in long lines to take flights to Las Vegas.
The Carlsbad airport has generally been without regular commercial services since September 2015, when Chicago-based BizAir Shuttle ceased flight operations, which had included service to Los Angeles and Las Vegas.
Earlier that year, the Carlsbad airport lost its only major-carrier service when Utah-based SkyWest Airlines discontinued its local flights to Los Angeles, which operated as United Express through arrangements with United Airlines.
Santa Monica-based Surf Air currently operates a membership-based commuter service out of McClellan-Palomar, offering one daily flight to Los Angeles.