Funding Round to Boost Workforce at PetDesk
Monday, August 14, 2017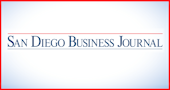 Tech startup PetDesk, which just raised a $2.1 million Series A round in June, is beefing up its local headcount to employ 75 people in San Diego.
The company, founded in 2014, currently employs about half that. Founders say the startup is hiring sales development, engineering, marketing, and product positions, and plans to have 75 employees by the year's end.
PetDesk makes an enterprise software product for pet service providers such as groomers, vets, and boarders.
The startup's recent Series A round came from Scottsdale VC firm Canal Partners. Interestingly, it's the fund's second investment in a local startup. The company's current portfolio also includes LightPost Digital, a San Diego digital agency for online marketing.
Canal is assisting PetDesk with sales and marketing guidance, executive leadership, and is involved in the company's board of directors, according to a company statement.