Navy Adds Possible $123 Million to ViaSat's Radio Systems Contract
Sunday, August 13, 2017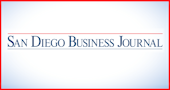 The U.S. Navy cleared the way for ViaSat Inc. to produce more software-defined radios called MIDS JTRS, and sustain those electronics. The development could be worth more than $100 million to ViaSat (Nasdaq: VSAT).
The Navy announced on Aug. 10 that it raised the ceiling of the Carlsbad company's existing contract by $123.4 million, making the total contract worth as much as $602 million.
The deal calls for ViaSat to produce, develop and sustain the Multifunctional Information Distribution System Joint Tactical Radio Systems — known as MIDS JTRS for short.
ViaSat will now wait for delivery orders under the indefinite delivery, indefinite quantity contract. Work is expected to continue through 2020.
SPAWAR, the Space and Naval Warfare Systems Command, awarded the deal on behalf of the MIDS program office.
Data Link Solutions LLC of Cedar Rapids, Iowa received a similar award.