Festival Helps Surgical Team Go the Extra Mile to Help
Originally published August 10, 2017 at 1:24 p.m., updated August 10, 2017 at 1:24 p.m.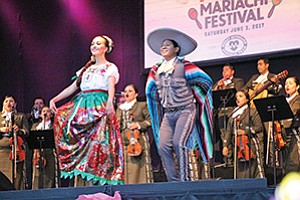 San Diego — The Scripps Mercy Outreach Surgical Team, or M.O.S.T., celebrated its 30th anniversary in style with a Mariachi Festival at Humphreys by the Bay. The sold-out evening event drew 400 guests and raised a record $250,000 for the volunteer medical group to continue its humanitarian missions to Mexico. Main sponsors included the Rotary Club of San Diego Foundation and the Menard Family Foundation.
M.O.S.T. is made up of physicians, nurses, and technical and administrative staff members who volunteer their time and skills to provide life-changing surgeries to children who were born with cleft palates, cleft lips, crossed-eyes or other conditions. Some were injured in accidents. More than 13,000 patients have been served since M.O.S.T. formed in 1987.
The humanitarian group relies on philanthropy to fund its week-long missions to central and southern Mexico. A team of about 50 volunteers works with local organizations to set up temporary clinics to treat children in need of reconstructive surgeries.
The Sixth Annual M.O.S.T. Mariachi Festival featured Mariachi Garibaldi from Southwestern College and Ballet Folklorico Tierra Caliente.
• • •
Philanthropists Malin and Roberta Burnham have made a $225,000 gift through the Burnham Foundation to California State University, San Marcos to establish the Burnham Leadership Experience in the University's College of Business Administration. The Burnhams have been supporters of CSUSM since the university's founding in 1989. Their most recent gift will fund three teams of CSUSM students every semester in perpetuity.
• • •
TheraPony, a small volunteer-run horse rescue and sanctuary in Ramona, was awarded a grant by the American Society for the Prevention of Cruelty to Animals (ASPCA) to continue its lifesaving work. More than 170 rescues and sanctuaries nationwide participated in ASPCA's Help A Horse Day celebrated in April. TheraPony was awarded the grand prize of $25,000 for its efforts to lower the number of unwanted horses through "30 Geldings in 30 Days" campaign, providing 30 free castration surgeries in the San Diego area during the month of April. Matt Bershadker, ASPCA president and CEO, congratulated the winners and thanked everyone who is "involved in the life-saving work of caring for horses that've been abused and neglected."Anika Russell, TheraPony's founder, expressed gratitude for the support and the nonprofit is already working on "ideas for next year's Help A Horse Day."
Supporters were Mylestone Equine Rescue, New Jersey Horse Coalition, San Diego Horse Coalition, Unwanted Horse Coalition, FarmVet, Horse.com, Harmel's Helping Hands Equine Massage, Exact Equine in Lakeside, trainer Pete Spates of Natural Responses Horsemanship and the Ramona Chamber of Commerce. TheraPony plans to fund its community support program with a portion of this grant.
The routine care for one horse is about $3,000 a year, not including emergencies and acute cases. With nearly 30 horses under its care, the need for funding is acute. Donations and monthly sponsorships are greatly appreciated.
• • •
The San Diego Regional Fire Foundation awarded a $44,500 grant to the San Diego County Fire Authority to purchase automated external defibrillators for rural San Diego County fire departments.
"About 90 percent of calls in San Diego's back country are medical," Cal Fire Chief Tony Mecham said. "Having defibrillators in every vehicle will greatly improve our first responder's ability to save lives." Supporters are: Beyster Family Foundation at the San Diego Foundation, Grossmont Healthcare District, San Diego Gas & Electric Co. and individuals in two rural communities.
• • •
Just in Time for Foster Youth has reached a new milestone of support and partnership with the announcement of a $1 million challenge grant from the Walter J. and Betty C. Zable Foundation. The funds will be distributed over three years and enhance JIT's capacity to serve more young people leaving the foster care system with its transformative model of creating a community of support for them, not just today, but for years to come. JIT engages a community of volunteers to help foster youth ages 18-26 achieve self-sufficiency and well-being when they leave the foster care system without family support.
In order to receive the full $1 million grant, JIT must secure matching, three-year written commitments.
Send Kudos/Giving items to sglidden@sdbj.com.