PROPERTY: BALLOT MEASURE HURTS CHANCE FOR COMPROMISE
Density Is a Big Divider For SDSU, SoccerCity
Originally published August 10, 2017 at 12:50 p.m., updated August 10, 2017 at 12:50 p.m.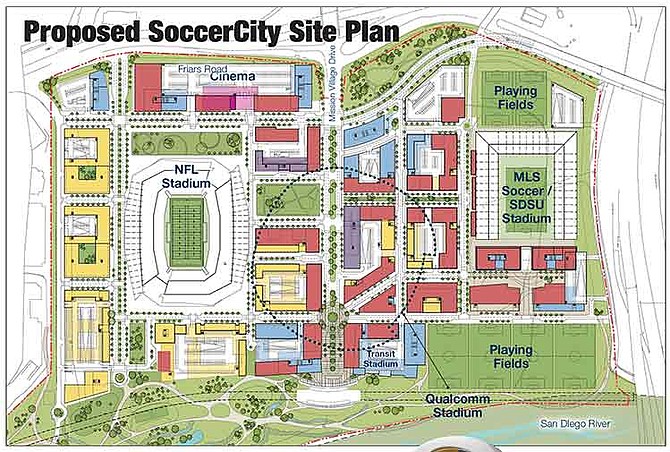 The Players
Here's a look at where things stand with the issue of what happens next with development of the Qualcomm Stadium site in Mission Valley, and key parties involved:
Goal San Diego — The investment group backing the proposed mixed-use SoccerCity project recently launched a campaign dubbed "Wait for San Diego," calling for Major League Soccer to hold off deciding on at least two of its planned expansion teams until city voters decide on the group's project ballot measure in 2018. SoccerCity – calling for a 30,000-seat soccer stadium, river park, residential units, offices, hotels, retail and other commercial elements – is backed by a group that includes Mike Stone and Nick Stone of FS Investors; former Qualcomm Inc. President Steve Altman, San Diego Padres Managing Partner Peter Seidler; Univision Deportes President Juan Carlos Rodriguez; biotech entrepreneurs Massih Tayebi and Masood Tayebi; and former soccer star Landon Donovan.
Public Land, Public Vote — A coalition of local developers and other SoccerCity opponents, formed earlier this year to oppose the existing ballot measure and the current process by which the soccer-focused development has been considered by the city. Calling for a more competitive bidding process, this group has significant financial backing from developers H.G. Fenton and Sudberry Properties, both of which have large holdings in Mission Valley and elsewhere in San Diego.
San Diego State University — Recently approached city officials with an informal vision for the Mission Valley site, centered around a new college football stadium and other elements that would create a western extension of SDSU's current main campus.
The vision includes a 35,000-40,000-seat stadium for the Aztecs and potential future sports partners; affordable and market-rate housing, and adjacent retail, office, hotel and other commercial space. The university earlier this year withdrew from talks with SoccerCity proponents, but so far has not formally endorsed any developer's plans for the 166-acre Qualcomm Stadium site.
San Diego — San Diego State University finally stepped from the sidelines and entered the field of play late last month with its bid to be the master developer of the Mission Valley site of Qualcomm Stadium.
Observers say the university's leadership could result in a wider mix of potential new uses that are acceptable to a large swath of residents as well as the business community.
But the university's push could throw a wrench into the plans of SoccerCity proponents to get their mixed-use project approved by voters in 2018. SDSU walked away from talks with SoccerCity in May after the two sides were unable to reach agreement related to the university's participation in the project.
A future partnership between the two is not out of the question, "but I think it's still going to take a lot of work," said Steve Peace, a former California state senator and assembly member, who more recently consulted for the John Moores-led development firm JMI Realty.
Peace and other observers noted there is still trust to be restored, after SoccerCity investors began pushing their plan just days after the then-San Diego Chargers announced in January that the team would be leaving town to play in the Los Angeles market.
The SoccerCity proposal — by an investor group led by La Jolla-based FS Investors — has since become a ballot measure that will likely be decided by voters in late 2018, after the San Diego City Council rejected moves by developers — backed by Mayor Kevin Faulconer, a project proponent — to place it on the November 2017 ballot.
Also, Peace said there remains wide divergence in perspectives related to the density of future development at the Mission Valley site. While he can understand the business basis for SoccerCity in its current form, the project is much denser than what is needed by SDSU and ultimately denser than what many voters and nearby residents will likely be willing to accept.
SDSU as Master Developer?
The university advocates for a competitive proposal process, and recently presented city officials informally with a vision for the Mission Valley site, in which SDSU would be the master developer, working with potential sports partners that would make use of a new stadium, and development partners that would build other elements on the site. SDSU's preliminary vision — to be formalized in coming months — calls for a 35,000-40,000-seat stadium for the Aztecs and potential future sports partners, affordable and market-rate housing, and adjacent retail, office, hotel and other commercial space.
A lifelong San Diego resident, Peace is now focused on his original early-career work in movie production and no longer consults for JMI. But he notes the latest SDSU vision is not that different from one presented in spring 2016 by a JMI-assembled ad hoc panel that included local developers, urban planners and university boosters.
That concept also called for affordable and market rate apartments, an Aztec stadium, and various other facilities that could serve as a long-desired, trolley-accessible western extension of SDSU's main campus to the east off Interstate 8.
At the time the JMI-presented vision was unveiled, SDSU leaders (including then-President Elliot Hirshman) said the university might be interested in the concept if the land could be donated free by the city or granted to the university at a low cost. In a competitive proposal process, and with local officials looking to maximize revenue at sites like Qualcomm Stadium, that's an iffy proposition in the current market.
However, SDSU and its backers are asking the city to consider the long-term economic benefits already created by the university's presence, with the potential for enhanced returns in the long run.
Caught Off Guard By Proposal
Prominent real estate investor and SDSU alumnus Frederick Pierce, who remains active in leadership of campus alumni and other advisory boards, said he is encouraged by recent developments, including the university's new push for a leadership role at Mission Valley.
"It's going to allow for an open discussion that can lead to a decision that is based on a full review of all the concepts that are out there," said Pierce, president and CEO of San Diego-based Pierce Education Properties LP. The company is among the nation's largest owners and developers of student housing, though none of its portfolio is in San Diego County.
Pierce said much of the university and development community was caught off-guard by the speed at which the SoccerCity proposal came together earlier this year. Once the soccer-centric proposal became a ballot measure with specific wording, he said, it became extremely difficult for the university or other community stakeholders to have a true say in negotiating terms of that project.
Pierce is also a former California State University trustee, and he spearheaded committees that planned much of the residential and related development that sprouted on and near the SDSU campus during the past two decades.
He said he is confident that SDSU's current interim president, Sally Roush, will be able to bring together a plan for Mission Valley that will be acceptable to city officials, local residents and business leaders, and get that plan finalized and moving forward before her term is expected to end in early summer 2018.
Pierce said that confidence stems largely from Roush's prior work in executive positions at SDSU from 1982 until her retirement in 2013. That included leading the steering committee for SDSU's strategic plan known as "Building on Excellence," a program that has overseen the addition of numerous new academic, housing and mixed-use components on the SDSU main campus over the past decade.
Some Shared Goals
It remains to be seen whether any future relationship exists between SDSU and SoccerCity backers.
"Both sides have to be able to trust one another for something to get done," Pierce said.
SoccerCity proponents recently called on Major League Soccer to hold off on naming at least two of its four planned expansion teams until local voters can decide on the project. Investor groups in several U.S. cities are vying to join the league in addition to the one in San Diego.
Responding to the issue of whether a future relationship is possible at Mission Valley between his group and SDSU, SoccerCity project manager Nick Stone said the investor group known as Goal San Diego is "heartened that SDSU's concept so closely matches our plan," with the exception that it would not bring pro soccer to San Diego or fund a planned river park.
"Our goal from the outset has been to work with SDSU on a plan that meets their needs while also attracting a Major League Soccer team to San Diego, creating a large river park, and providing significant tax revenue to the city — all without costing taxpayers a dime," said Stone, a partner in La Jolla-based FS Investors, in an emailed statement. "Our proposal accomplishes all of this."
Stone said because the two visions for the property are so closely aligned, "we invite SDSU to return to the table to finalize a plan that would benefit all San Diegans."