PROPERTY: BALLOT MEASURE HURTS CHANCE FOR COMPROMISE
Density Is a Big Divider For SDSU, SoccerCity
Originally published August 10, 2017 at 12:50 p.m., updated August 10, 2017 at 12:50 p.m.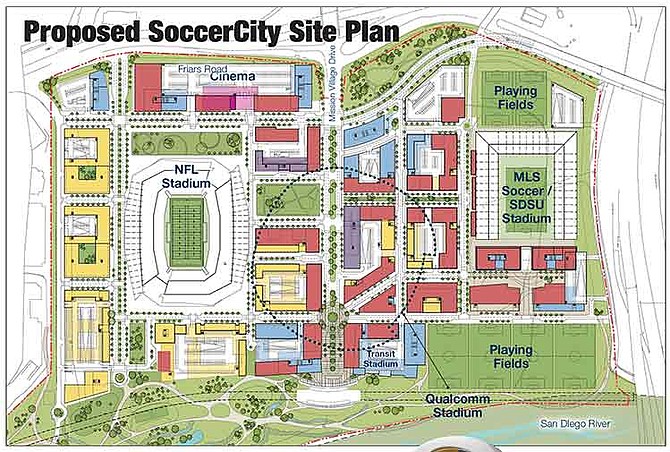 The Players
Here's a look at where things stand with the issue of what happens next with development of the Qualcomm Stadium site in Mission Valley, and key parties involved:
Goal San Diego — The investment group backing the proposed mixed-use SoccerCity project recently launched a campaign dubbed "Wait for San Diego," calling for Major League Soccer to hold off deciding on at least two of its planned expansion teams until city voters decide on the group's project ballot measure in 2018. SoccerCity – calling for a 30,000-seat soccer stadium, river park, residential units, offices, hotels, retail and other commercial elements – is backed by a group that includes Mike Stone and Nick Stone of FS Investors; former Qualcomm Inc. President Steve Altman, San Diego Padres Managing Partner Peter Seidler; Univision Deportes President Juan Carlos Rodriguez; biotech entrepreneurs Massih Tayebi and Masood Tayebi; and former soccer star Landon Donovan.
Public Land, Public Vote — A coalition of local developers and other SoccerCity opponents, formed earlier this year to oppose the existing ballot measure and the current process by which the soccer-focused development has been considered by the city. Calling for a more competitive bidding process, this group has significant financial backing from developers H.G. Fenton and Sudberry Properties, both of which have large holdings in Mission Valley and elsewhere in San Diego.
San Diego State University — Recently approached city officials with an informal vision for the Mission Valley site, centered around a new college football stadium and other elements that would create a western extension of SDSU's current main campus.
The vision includes a 35,000-40,000-seat stadium for the Aztecs and potential future sports partners; affordable and market-rate housing, and adjacent retail, office, hotel and other commercial space. The university earlier this year withdrew from talks with SoccerCity proponents, but so far has not formally endorsed any developer's plans for the 166-acre Qualcomm Stadium site.
San Diego — San Diego State University finally stepped from the sidelines and entered the field of play late last month with its bid to be the master developer of the Mission Valley site of Qualcomm Stadium...