Two Venture Capitalists Named to Sirenas Board
Wednesday, August 9, 2017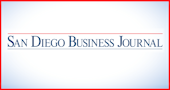 Sirenas LLC, which uses deep data mining to advance drug discovery, has appointed two directors with venture capital experience to its board.
Sirenas announced the addition of Versant Ventures venture partner Mary Haak-Frendscho, who runs Versant's Toronto-based biotechnology incubator, Blueline Bioscience, and Bob More, managing director of Alta Partners. The other members of the board are the company's CEO and founder, Eduardo Esquenazi, and co-founders Jake Beverage and Phil Baran.
Previously, Haak-Frendscho was founding president of Takeda San Francisco; More was previously with Frazier Healthcare Partners, Domain Associates and a senior advisor of venture investing at the Bill & Melinda Gates Foundation.
"The team at Sirenas has built a high-value, transformational big data platform that rapidly mines information from the millions of compounds they have isolated from global microbiome collections," More said. "This resource is allowing Sirenas to uncover therapeutic leads from a previously hidden, rich pool of privileged chemistry that can be leveraged to help tackle the greatest unmet disease needs."
Sirenas, headquartered in San Diego, has a presence at JLABS San Diego, the incubator run by pharmaceutical company Johnson & Johnson.