Parallel 6 Acquired by North Carolina Co. for $39.4 Million
Tuesday, August 8, 2017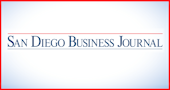 Publicly held contract research organization PRA Health Sciences Inc. recently acquired San Diego's Parallel 6 Inc. (P6), which provides enterprise software for clinical trial management, for $39.4 million.
P6, which was founded about eight years ago, also has offices in Washington, D.C. San Diego-based mezzanine debt and private equity firm HCAP Partners, which invested in the company in January 2015, has exited its investment, it said Tuesday. Terms were not disclosed.
"(HCAP's) understanding of the software market in the clinical trial space enabled us to further accelerate our very successful product, and allowed us to focus our strengths on such areas as mobile and cloud," said David Tuner, P6's president, founder and chief technology officer, in a statement from HCAP on its exit.
PRA Health (Nasdaq: PRAH), a global CRO based in Raleigh, N.C., provides outsourced clinical development services to the biotechnology and pharmaceutical industries.