Fundraising at Two Local Biotechs
Originally published August 3, 2017 at 3 p.m., updated August 3, 2017 at 3 p.m.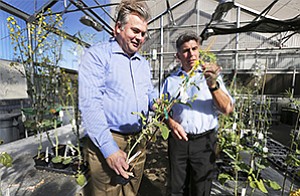 San Diego — Amplyx Pharmaceuticals Inc., a local drugmaker led by biotech industry veterans, has raised $67 million as part of an equity round led by Menlo Park-based Sofinnova Venture Partners.
The round also includes new investors Lundbeckfonden Ventures, Arix Bioscience, and Pappas Capital. Existing investors also joined the round, including New Enterprise Associates, RiverVest Venture Partners, 3x5 RiverVest II, and BioMed Ventures.
As part of the deal, Dr. Anand Mehra, managing partner at Sofinnova, will join the board at Amplyx. Johan Kördel, a senior partner at Lundbeckfonden Ventures, will also join the board.
The capital comes from 26 investors, with the first sale of stock sold on July 14 of this year. According to the filing, the company intends to raise $26.7 million more, bringing the total raise to $66.7 million. Amplyx indicated that the offering would last more than one year.
Amplyx is making an anti-fungal medicine to treat life-threatening fungal infections, which are often contracted in hospitals. The company was originally led by Mike Grey, a longtime biotech executive and investor in San Diego. Although Grey still serves as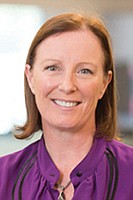 executive chairman, he handed the CEO reins to Ciara Kennedy earlier this year. Kennedy previously served as chief operating officer at Amplyx, and also has a long history in life science leadership.
"The strong interest from such high-quality investors further validates our confidence in the potential of our lead drug candidate to combat deadly fungal infections, which pose a serious risk to patients (with compromised immune systems)," Kennedy said in a statement. "Our new investors understand the critical unmet medical need and share
Amplyx's vision of accelerating the development of new treatment options for patients who are faced with these life-threatening infections."
Amplyx will use the new money to advance the clinical development of APX001, the company's antifungal agent.
"We have been impressed with Amplyx's rapid progress and believe the company has a talented and committed team in place to develop this critical asset to reach patients and the market quickly," Mehra said in a statement. "We look forward to working with Amplyx as they move APX001 into the next phase of development."
Amplyx has already raised $51.5 million in venture capital and received more than $10 million in grants from the National Institutes of Health.
• • •
Local agtech company Cibus has raised over $57 million in an equity round, according to paperwork the company filed with the U.S. Securities and Exchange Commission.
The capital comes from 62 investors, with the first sale of stock dating back to July 2015.
Cibus (pronounced see-bus) is fine-tuning a gene-editing technology that improves a crop's resilience while remaining carefully outside the GMO (genetically modified organism) line. The new technology used by Cibus is a less meddlesome way to improve plants. Instead of inserting a completely foreign gene into a plant's chromosomes (like genetic modification), gene editing only plays with the crop's existing DNA. Although Cibus is fiddling with plant genes, the technology is not the same as genetic modification and is therefore not classified as "GMO" by the U.S. Department of Agriculture. This means Cibus' crops can wear the label of "non-GMO" once they reach the shelves, a boon for farmers in need of consumer-friendly crops.
The company's first commercial crop, SU Canola, is an herbicide-tolerant crop that's heartier and less susceptible to shatter (when plants fall apart on the ground). The company also has three other programs for potatoes, rice, and flax. The potatoes are less prone to late blight — the fungal disease behind the potato famine of 1845. Cibus' rice and flax are also herbicide-tolerant.
A Cibus spokesperson said in an email that the capital will be used to accelerate its research programs in a variety of crops, although the company did not detail which ones.