Quentin Blackford Joins Dexcom Team as CFO
Tuesday, August 1, 2017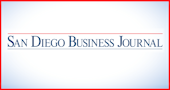 Quentin Blackford, who resigned last week as NuVasive Inc.'s chief financial officer, has been recruited by DexCom Inc.'s executive team for the same position.
Blackford worked for NuVasive, a public company that makes spine surgery technology, since 2009, as CFO, executive vice president, and head of strategy and corporate integrity. Before that, he worked at Zimmer Holdings Inc., serving most recently as director of finance and controller of the dental division.
The news was announced as part of DexCom's earnings statement for the second quarter. The company reported a pretty significant jump in quarterly revenue. DexCom brought in $170.6 million for Q2 in 2017, up 24 percent from the $137.3 million in the same quarter last year. Net income was $2.9 million for the quarter, up from the $20.2 million net loss in Q2 of 2016.
The company makes a popular device used by diabetes patients called the DexCom G5 Continuous Glucose Monitor, or CGM. The device recently hit a milestone when the U.S. Centers for Medicare and Medicaid Services established unprecedented insurance coverage for the device in January, making it easier for patients to afford the device.
DexCom President and CEO Kevin Sayer said the uptick in sales has to do with this new coverage.
"New patient interest in DexCom CGM is robust, fueled by positive reimbursement decisions for both the Medicare population and in Germany combined with increased awareness around the world," Sayer said in a statement.