Carlsbad Cosmetic Firm Raises $15 Million
Tuesday, August 1, 2017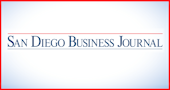 Colorescience, a makeup company in Carlsbad, has raised $15 million so that it can fuel R&D and build out its sales and marketing team.
The cash comes in the form of a Series C preferred stock financing, which was led by 1315 Capital L.P., a Philadelphia-based health care investment firm. As part of the deal, 1315's founding partner Adele Oliva is joining Colorescience's board of directors.
Other investors in the round included Healthcare Ventures, Greenspring Global Partners, and Montreux Equity Partners.

The local company makes products that blur the line between skincare and cosmetics, as its makeup is clinically tested to protect skin against UV exposure.
"This investment comes at an important inflection point in our growth at Colorescience and allows us to further invest in innovation and firmly establish our sales and marketing leadership in the aesthetics and beauty industry," said Mary Fisher, Colorescience's CEO, in a statement. "We are particularly pleased to partner with 1315 Capital given their team's long and proven track record of backing successful high-growth health care companies."