Maxwell Technologies Completes Nesscap Energy Acquisition
Sunday, April 30, 2017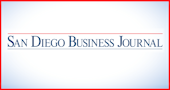 San Diego-based Maxwell Technologies Inc., which makes energy-storage electronics called ultracapacitors, said April 28 it has completed the acquisition of Nesscap Energy Inc.
Maxwell (Nasdaq: MXWL) announced it was planning to buy Nesscap, a South Korea-based competitor that also specializes in ultracapacitors, two months ago on Feb. 28. The $23.18 million agreement was announced as the company, which lost $12.2 million on $26.4 million revenue during the fourth quarter of 2016, also put forth a plan to restructure with the goal of saving $6 million per year.
Maxwell issued about 4.15 million shares of stock to pay for the acquisition.
"Nesscap's industry leading small and medium cell ultracapacitor technology complements Maxwell's leadership in large cells, creating an expanded and strengthened product portfolio," said Franz Fink, Maxwell's president and CEO. "With our combined development pipeline, we will be able to deliver more products and technologies faster to our global customer base."
The Nesscap business has operations in Korea, Germany, and China. The Chinese bus manufacturing sector is a major customer for Maxwell.
Maxwell said the purchase is expected to be immediately accretive to earnings.