TECH: CO. USES SEQUENCING TO EFFECTIVELY GUIDE EXTRACTION
Improved Oil Drilling Yields: It's in the DNA
Originally published April 27, 2017 at 12:17 p.m., updated April 27, 2017 at 12:17 p.m.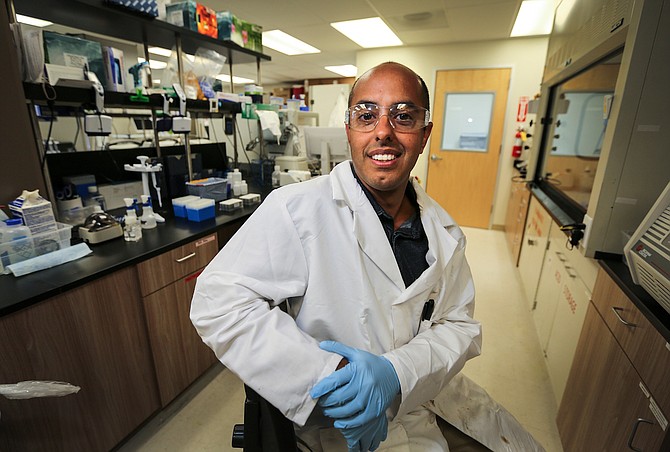 San Diego — Coaxing more oil from rock is the holy grail of the fracking industry, and San Diego startup Biota Technology Inc. can help oil producers do just that.
The company, founded in 2013, uses DNA technology to tell oil companies where to drill, how their existing wells are performing, and how they might maximize production. As domestic energy producers push to cut costs in order to compete with global exporters, Biota's new technology is attractive. After all, there's plenty of room for improvement when it comes to exploration and extraction of oil. Recovery rates run about 8 percent in shale fields, leaving the other 92 percent of the oil trapped between layers of rock.
New Data Source
"There's a lot of money that goes into characterizing underground reservoirs," said Ajay Kshatriya, chief executive officer and co-founder of Biota Technology. "The most sophisticated diagnostic tools have all been applied, because the economic payout of better data is substantial. But this is the first new data source the oil and gas industry has seen in the last two decades."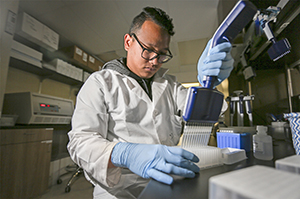 Biota's technology is complicated, but in short, the company takes samples of DNA from microbes found in rock samples at an oil well site. The samples come up when the oil company is drilling down into the subsurface. Each layer of rock has different genetic markers, so Biota can tell which layers are producing the most oil by analyzing similarities and differences in the samples. It also tells the oil company which layers are not producing, so the company can insert another pipe, break up that rock, and extract more oil from previously untapped layers.
Paying Customers
Biota's technology is delivered to oil companies as a data service, and right out the gate Biota was able to find paying customers. The company said it has deployed its tech to about 85 wells across the country, and customers include Statoil ASA, EP Energy Corp., Anadarko Petroleum Corp. and about a dozen other oil producers.
Peter Lascelles, an EP Energy geologist, told Reuters that Biota's DNA testing helped the company understand the performance of its wells better than existing field surveys such as seismic and chemical analysis.
For one site, Kshatriya estimated EP Energy saved about $20 million per square mile.
The savings is a result of Biota telling oil producers how to get more oil from less land.
"It's like 'Monopoly,'" Kshatriya said. "If I have three houses on Boardwalk instead of two, I get more rent. That's ultimately what tighter well spacing enables."
Kshatriya would not say how much the data service costs its customers.
All-Star Team
Biota caught the eye of Vikram Rao, the former chief technology officer at Halliburton, an oil giant with a market cap of $40 billion. Rao was introduced to Biota through a venture capitalist, and ended up joining Biota's executive team as chief scientist.
Biota's executive team is actually studded with all-stars. Renowned data science academic Rob Knight is the company's chief scientific officer and co-founder. Knight, a University of California, San Diego professor, is probably best known for presenting at TED, the World Economic Forum, and authoring 390 peer-reviewed publications on topics revolving around the microbiome and biological data.
Thomas Ishoey, a former executive at Synthetic Genomics Inc. and former CTO of Glori Energy Inc., serves as Biota's CTO. Then Kshatriya himself was a former associate venture capitalist at XSeed Capital and a former senior technical project manager at Genentech Inc., one of the largest biotechs in the country.
New Sequencing Markets
The team loaded with bigwigs was backed in part by San Diego's biggest life science company, Illumina Inc., the largest maker of DNA sequencing instruments in the world. While the Illumina investor was not available for comment on the deal, Kshatriya said the sequencing giant was particularly interested in applying DNA technology to a whole new industry.
In an interview earlier this year, Illumina CEO Francis deSouza told the Business Journal that Illumina's venture capital fund invests in startups that might create new markets for their instruments. Biota, of course, is doing exactly that.
"The reason the oil and gas industry never used genomics was because it wasn't affordable," Kshatriya said. "Illumina unlocked the ability to apply genomics to the subsurface."
He's referring to how Illumina's technology lowered the cost of sequencing DNA, which used to cost several thousand dollars per genome. The company made headlines back in 2014 when it announced its machines could do the work for $1,000 per genome, and then in 2017 said that cost might eventually drop to $100.
The Cost
Kshatriya would not disclose how much capital Biota has raised, or how much revenue was flowing into the company.
However, he did tell Reuters that the cost of Biota's product "amounts to less than 1 percent of total cost to bring a well online."
A shale well can cost between $4 million and $8 million, depending on geology and other factors.
Biota employs 16 people in San Diego.