Bug Busters Forge on with $15M in Startup Capital
Originally published April 27, 2017 at 12:57 p.m., updated April 27, 2017 at 12:57 p.m.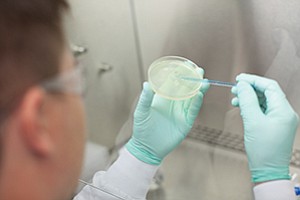 San Diego — Forge Therapeutics Inc., a biotech startup that's waging war on super bugs, just got armed with $15 million in fresh capital to fuel its research.
The new funding — a Series A round and the company's first foray into venture capital — was led by Houston-based VC firm MagnaSci Ventures. The group was joined by several other investors, including Evotec AG, Alexandria Venture Investments, MP Healthcare Venture Management, Red Apple Group, and WS Investments.
Targeting Super Bugs
Forge has what drugmakers call a "drug discovery platform," meaning their patented approach to chemistry can be used to find research targets that might later develop into valuable medicines. The company used its platform to find a compound that's shown effective against multidrug resistant bacteria ("super bugs") in animal studies.

"This financing is an important step forward to solving the super bug epidemic, an urgent global health issue in desperate need of innovation," said Brian Dorsey, founding partner at MagnaSci Ventures.
Over the past decade, many drugmakers stopped trying to fight super bugs, citing high research costs, poor returns and too much red tape. They saw opportunities to make money elsewhere, with cancer and other chronic disease treatments driving big returns. For example, drug companies were collectively developing 800 or so cancer drugs last year, while only 40 antibiotics were being developed.
The slow research pipeline has led to the consistent use of old and tired drugs, fueling resistance by super bugs. Millions of people around the globe have become infected with bacteria that are resistant to current antibiotics, with an estimated 700,000 worldwide deaths occurring each year from drug-resistant infections.
Now, after repeated warnings about dangerous, mutating strains (along with some new federally funded incentives) local biotechs are returning to the front lines.
Gaining Traction
Forge Therapeutics, headquartered at Johnson & Johnson Innovation's incubator JLABs, is one such firm. The company's lead effort is focused on LpxC, a zinc metalloenzyme found only in Gram-negative bacteria. LpxC is essential for bacterial to grow, and Forge has discovered novel small molecule inhibitors of LpxC that are effective against drug-resistant superbugs in animal studies.
There are no FDA-approved therapeutics that target LpxC, making Forge's compound a novel one.
Before this latest round of capital, Forge had already scored seed capital from local angel group Tech Coast Angels, along with a grant of up to $8.8 million. The grant money came from a group called CARB-X, a U.K/U.S. public-private partnership set up last year to rejuvenate early-stage antibiotic and antimicrobial research. The group, which includes participation from the Biomedical Advanced Research and Development Authority (BARDA) and the National Institutes of Health (NIH), awarded a total of $24 million to 11 biotechs in this first round of grants. Forge's piece of the pie was the largest.
The company was given an initial award of $4.8 million over 15 months, and an additional $4 million upon achievement of certain milestones.