Touch Base With Top Tech Execs at Huge Awards Event at Petco Park
Sunday, April 23, 2017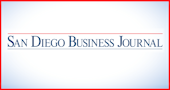 Tickets to one of San Diego's most popular high-tech gatherings are on sale now. The 10th annual Top Tech Exec Awards will take place on May 11th from 4 to 7 p.m. and will be staged in the field at Petco Park.
More than 2,000 attendees are expected at the inventive awards ceremony that will feature a vibrant evening of networking, food and entertainment while recognizing the most outstanding IT executives in San Diego. Special areas will be created that include the Cox Business Lounge and Top Tech Tavern serving up complimentary libations.
For more information and ticket purchase about the Top Tech Exec Awards 2017, please visit www.toptechexecs.com or call Audrey Marlow at (858) 277-6695.
Sponsors for the event include title sponsor Cox Business; media sponsor San Diego Business Journal; platinum sponsor ScaleMatrix; silver sponsor ESET; bronze sponsor VIA; and supporting sponsors Association of IT Professionals San Diego, Better Business Bureau, Geek Girl, San Diego County Hispanic Chamber of Commerce, San Diego STARTUP Week, and TECHSANDIEGO.